Friday, 6 March 2020
Very slow again until late next week
Victoria Forecast by Craig Brokensha (issued Friday 6th March)
Best Days: Very keen surfers exposed beaches Sunday and Monday mornings and Wednesday morning, Thursday morning
Recap
While not the cleanest, conditions were still OK across most locations yesterday with a drop in S/SW groundswell and workable onshore winds, less appealing into the afternoon as winds strengthened.
Today the swell is smaller and winds fresher onshore, creating poor conditions.
This weekend and next week (Mar 7 - 13)
Firstly we've got a poor weekend as the remnants of Tropical Cyclone Esther continues to influence our local winds. Esther, which dropped south-east across the country from up north brought the recent heavy rain event and now it's turned into a low off the Tasmania East Coast. This low, and a high to our west will produce poor and strong S'ly winds tomorrow, easing a little later and tending S/SE.
Swell wise, there's nothing of significance, with a poor and junky windswell breaking across both regions.
Sunday morning should become cleaner (compared to Saturday) on the beaches as the high moves east over the weekend, tipping winds around to the E/SE through the morning, but we'll be looking at a weak mix of background swell and windswell. The Surf Coast looks to offer junky 1-2ft waves max, 2ft to possibly 3ft on the Mornington Peninsula.
Moving into next week and winds will slowly improve for the beaches (more so into the end of the week), but the swell will remain miminal for the most part.
Monday looks slow with a light morning E/SE-E breeze and leftover swell to 2ft+ or so on the exposed beaches, tiny on the Surf Coast, with a low point in swell Tuesday as winds look to now linger from the E/SE-SE.
Our mix of inconsistent long-period W/SW groundswell and mid-period S/SW swell for later Tuesday but more so Wednesday are on track, but again no major size is expected.
The distant low linked to the groundswell has generated a fetch of severe-gale W/SW winds in our far swell window, and will push along the polar shelf in a weaker form this weekend generating strong W'ly winds.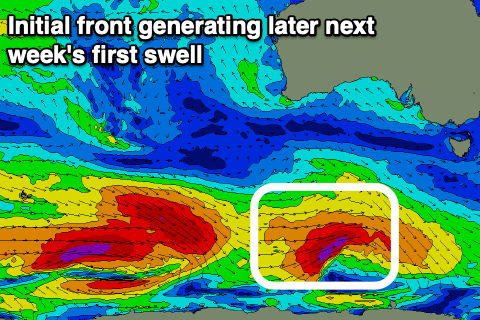 Both swells should build later Tuesday but peak Wednesday to an inconsistent 2ft on the Surf Coast and 3-4ft on the Mornington Peninsula on the sets, with long waits for them.
Unfortunately a lingering SE'ly wind will create workable but not ideal conditions, offshore Thursday out of the N/NE along with a better S/SW groundswell from a stronger polar front firing up early next week.
This will be the first in a strengthening polar frontal progression, with the swell due to kick to 4ft+ on the Mornington Peninsula Thursday morning, 2ft+ on the Surf Coast with that morning N/NE offshore. Winds will unfortunately shift NW on Friday morning as the swell eases, ahead of a better and slightly better groundswell from the strongest of the progression later Friday but more so Saturday.
At this stage we're looking at surf to 3-4ft on the Surf Coast and 5-6ft to the east but with poor and strong S/SE winds in the wake of a change Friday afternoon.
Following this there's nothing too major on the cards, though we'll have a closer look on Monday. Have a great weekend!