Monday, 2 December 2019
Take your pick this week, wind and swells abating into the weekend
Victoria Forecast by Craig Brokensha (issued Monday 2nd December)
Best Days: Protected spots all week, exposed beaches Sunday AM
Recap
Easing surf through Saturday with not the greatest conditions, workable for keen surfers across both regions and then clean but small into yesterday morning west of Melbourne.
Today, we've got out first increase in mid-period SW swell filling in, though conditions aren't the best with strengthening W/SW winds that will shift more SW.
This week and weekend (Dec 3 - 8)
We've got lots of wind and swell on the way this week, with the coldest of the air moving through last night and today.
Our initial increase in mid-period SW swell today was generated by a strong and then weakening polar front pushing up and into us over the weekend, with the Surf Coast due to reach 4ft this afternoon and 6ft+ to the east but with strong SW winds as the backend of the front pushes through.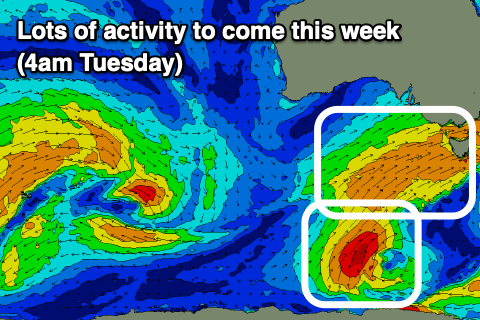 We're still expected to fall slightly between fronts at dawn tomorrow, with the swell likely holding around 4ft on the Surf Coast and 6ft+ to the east, though another broad, strong and elongated polar front will project a fetch of strong SW winds up and into us through the day.
This will see the swell kicking in size and power and likely reaching an easy 5ft on the Surf Coast and 6-8ft on the Mornington Peninsula, easing slowly from a similar size Wednesday morning.
A third polar front moving up on Wednesday slightly more in our southern swell window should produce a reinforcing S/SW swell for Thursday, maintaining 3ft to occasionally 4ft waves on the Surf coast and 5-6ft waves to the east, and then followed by one final burst of slower moving SW winds Thursday/Friday, keeping the swell up into Friday and Saturday.
Size wise, a slightly kick to 3-4ft+ is likely on the Surf Coast Friday afternoon, easing from a similar size Saturday morning and coming in at 5-6ft on the Mornington Peninsula owing to the southerly direction.
Coming back to the local winds, and protected spots will be the pick all week, with tomorrow seeing strengthening W/NW tending W winds, then a little weaker Wednesday, fresh and persistent from the W/NW, possibly holding from the W into the mid-afternoon but likely swinging more W/SW.
Thursday looks good again with W/NW tending W winds early afternoon, then shifting more W/SW later, while Friday becomes less favourable with a dawn W'ly shifting SW soon thereafter, similar Saturday though with more S/SW winds developing through the day.
Sunday will finally see winds swing offshore for the beaches to the east of Melbourne and out of the NE, but the swell will ease rapidly from the S/SW, dropping from the 3ft range, small and to 2ft on the Surf Coast.
Longer term a large blocking high will keep our swell potential at bay while also bringing unfavourable winds from the south-eastern quadrant, but more on this Wednesday.