Monday, 4 February 2019
Funky week, better activity from the weekend
Victoria Forecast by Craig Brokensha (issued Monday 4th February)
Best Days: Beaches to the east Wednesday morning, exposed magnets Thursday morning, Surf Coast Sunday, Monday morning and Tuesday morning
Recap
Fun improving waves across both coasts on Saturday morning with easing surf from 2ft+ on the Surf Coast and 3-4ft on the Mornington Peninsula with variable tending offshore winds ahead of sea breezes.
Sunday was small to tiny and best on the exposed beaches to the east before a strong change moved through, creating poor surf into today.
Today's Forecaster Notes are brought to you by Rip Curl
This weekend and next week (Feb 5 - 10)
Now that a surface trough has moved in from the west (bringing yesterday's change), a strong high is filling in behind it, bringing onshore winds that will slowly swing anti-clockwise though with no significant swell.
A long-range and inconsistent SW that's currently in the water under the onshore mess is due to peak this afternoon to 2-3ft on the Surf Coast and 4-5ft on the Mornington Peninsula.
We'll see this swell easing through tomorrow from a similar size though conditions will remain a mess with a moderate to fresh S/SE tending strong E/SE breeze.
Strong E/SE winds will also develop through Bass Strait, persisting into the evening and swinging more E'ly into Wednesday, kicking up a moderate sized E/SE windswell for the Surf Coast and peaks across the Mornington Peninsula as well.
The Surf Coast will likely see solid 4ft surf Wednesday morning, easing off through the day, while the Mornington Peninsula will be a bit smaller and easing from 3ft to maybe 4ft with a mix of weaker mid-period S/SW swell in the mix.
Winds will tend more E/NE on Wednesday morning favouring the beaches to the east while the Surf Coast will remain a junky mess.
Thursday should become cleaner on the Surf Coast with a light N/NW breeze, likely N/NE on the Mornington Peninsula, but size wise there'll nothing of note with fading 1-2ft sets on the former, and 2ft to maybe 3ft waves on the later.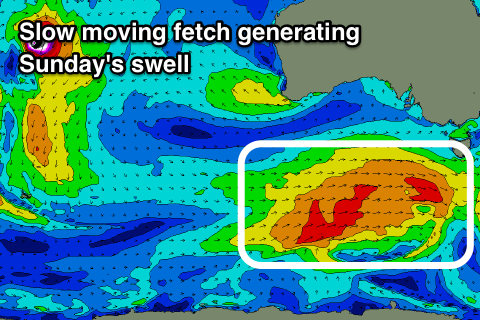 A new mid-period SW pulse due Friday morning isn't expected to have much size attached to it, with a pre-frontal and south-east dipping fetch of W/NW winds generating it today and tomorrow.
The Surf Coast may see 1-2ft sets, with 2-3ft waves on the Mornington Peninsula but with freshening SW winds (possibly W'ly early around Torquay).
The front isn't expected to bring any new swell but a stronger system firing up behind it will do into the weekend under the influence of a strengthening and stalling node of the Long Wave Trough across the south-east corner of the country.
This front will develop in the Heard Island region mid-week and generate a broad and elongated but relatively weak fetch of strong to near gale-force W/SW winds along the polar shelf and then up towards Tassie through the end of the week and Saturday, across us Sunday. The front will be slow moving helping to generate more size than would normally be seen, but the swell will consist mostly of mid-period energy.
We may see a late increase in windswell Saturday, but Sunday looks to offer the peak in swell with building sets to 3-5ft on the Surf Coast and 6-8ft on the Mornington Peninsula.
A secondary weak front projecting up towards us while strengthening will tip winds W/NW on Sunday morning, likely holding out of the W most of the day if we're lucky.
This secondary strengthening front will likely produce another increase in swell for Tuesday but with less favourable winds, with Monday falling in between swells with a morning W/NW breeze. More on this Wednesday though.