Monday, 14 September 2015
Fun waves from Wednesday with workable winds
Victoria Forecast by Craig Brokensha (issued Monday 13th September)
Best Days: Monday both coasts, Tuesday and Wednesday east of Melbourne
Recap
The weekend over-performed a touch, which is great for weekend warriors with clean fun 2ft waves across the Surf Coast Saturday and 3-4ft sets on the Mornington Peninsula.
A tricky pulse of new swell for Sunday morning from a strong but very poorly aligned fetch of severe-gale to storm-force W/NW to NW winds through our swell window Friday offered even better 2-3ft sets on the Surf Coast and pumping 4-5ft waves on the Mornington under persistent offshore winds.
This swell backed off overnight with a very inconsistent long-range W/SW groundswell keeping 1-2ft sets hitting the Surf Coast and 3ft waves on the Mornington Peninsula under strengthening N'ly winds. A late swing to N/NW winds is due this afternoon ahead of a weak W'ly change around dark.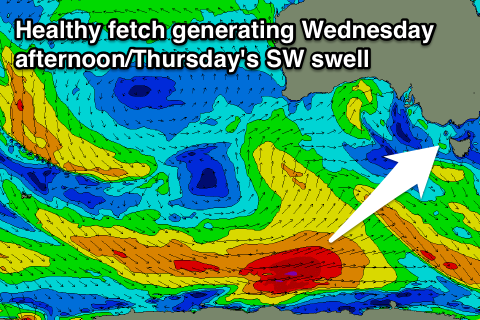 This week (Sep 15 – 18)
This evening's W'ly change is quite weak and as a result only a small weak W/SW windswell is due in its wake tomorrow morning, mixed in with the very inconsistent easing W/SW groundswell. The Surf Coast is looking to only offer small 2ft sets with 3-4ft waves on the Mornington Peninsula, easing through the day. Winds will limit options to the Surf Coast with a fresh W/NW'ly, tending W/SW through the day.
As touched on last update, from Wednesday we'll see moderate pulses of SW groundswell filling in, persisting through the end of the week and weekend. This is initially being produced by a flurry of strong polar frontal activity under the country today and tomorrow, followed by pre-frontal activity swinging in from the Indian Ocean through the middle to end of the week.
Wednesday will start slow but the swell should build noticeably through the day, reaching 3-4ft into the afternoon across the Surf Coast and 6ft to possibly 8ft on the Mornington Peninsula. Thursday morning should offer similar sized sets, easing a touch through the day.
Into Friday the swell from the first pre-frontal fetch is due to fill in, keeping 3ft sets hitting the Surf Coast and 6ft waves on the Mornington Peninsula, holding into Saturday.
Coming back to the winds, and Wednesday should be clean on the Surf Coast and selected locations east of Melbourne with a morning N/NW breeze ahead of a shallow onshore change through the afternoon, that shouldn't do too much damage.
Thursday then looks clean again with light variable winds (likely tending locally offshore) ahead of another stronger onshore change through the day, so head out as early as possible.
Friday morning looks to play out similarly to Thursday with variable breezes through the morning, tending onshore through the day, so there should be options about for a fun surf before lunch.
A return to offshore NW winds is due on Saturday morning ahead of a fresher SW change, but we'll confirm this on Wednesday.
This weekend onwards (Sep 19 onwards)
Into Sunday we've got another pulse of SW groundswell from a strong pre-frontal fetch of W/NW gales (kicking to 3-4ft Surf Coast and 6-8ft Mornington Peninsula), but behind this a much stronger increase in moderate to large W/SW groundswell is due.
This will be generated by a vigorous polar frontal system firing up south-west of WA later this week, projecting a fetch of severe-gale to storm-force W/SW winds towards Tassie and through our western swell window over the weekend.
The swell should fill in Sunday night and peak Monday morning to a solid 4-6ft on the Surf Coast and 8-10ft on the Mornington Peninsula but with what looks to be onshore S/SW winds in the wake of surface trough and building high pressure ridge from the west.
Check back Wednesday for a much clearer idea on how early next week is due to plan out though.