Wednesday, 9 September 2015
Fun Surf Coast Thursday, everywhere Friday and then slow weekend
Victoria Forecast by Craig Brokensha (issued Wednesday 9th September)
Best Days: Thursday morning Surf Coast, Friday both coasts, Saturday and Sunday swell magnets east of Melbourne
Recap
After a solid and good kick in swell across the Surf Coast Monday afternoon, an early W'ly failed to develop around Torquay into yesterday morning, with onshore and messy 3ft waves while the Mornington Peninsula was a stormy 6ft or so.

Today conditions were cleaner around Torquay but the swell small and to 2ft with messy 4-5ft waves on the Mornington Peninsula. Winds have since shifted back onshore across the Surf Coast, creating poor conditions.
This week and weekend (Sep 10 – 13)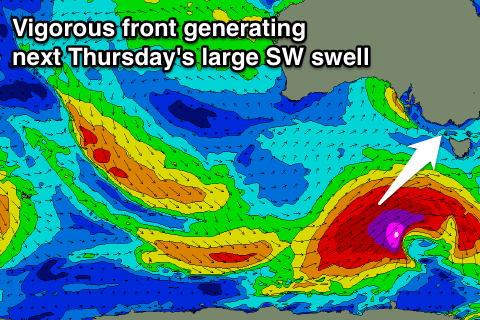 The end of the week is looking fun with a good new W/SW groundswell due into tomorrow to 3ft on the sets across exposed breaks on the Surf Coast and 6ft on the Mornington Peninsula. Winds will be from the W/NW across the Surf Coast through the early to mid morning creating clean conditions around Torquay, with onshore W/SW winds at remaining spots.
Into Friday the swell will ease, softened by a new S/SW groundswell through the morning, currently being generated by a broad fetch of W/SW gales to the south-west of Tassie.
We should see the Surf Coast easing from 2-3ft with 4-5ft+ sets on the Mornington Peninsula under N'ly winds (tending N/NW on the Surf Coast).
Similar winds are due Saturday (N'ly Mornington Peninsula and N/NW Surf Coast) but the swell will be tiny west of Melbourne, with inconsistent 3ft sets on the Mornington Peninsula, possibly kicking a touch further into the afternoon.
Our models are picking an increase in W/SW swell Saturday afternoon and Sunday from a fetch of gale-force N/NW and then W/NW winds very unfavourably aligned in our swell window, hence I don't think we'll see any real size at all.
Tiny surf is likely to continue through Sunday on the Surf Coast with 3ft sets on the Mornington Peninsula with local offshore tending N/NW winds.
Next week onwards (Sep 14 onwards)
The long-range and inconsistent W/SW groundswell for early next week is still due, but the vigorous frontal progression generating it will push more towards North West WA and not ideally through our swell window at all.
As a result only an infrequent 2ft wave is due across the Surf Coast Monday afternoon as it fills in, with 3-4ft+ sets on the Mornington Peninsula as winds shift to the west.
Of greater importance is a large SW groundswell due for Thursday across the state (with a moderate pulse due Wednesday before it).
This will be generated by a broad and vigorous polar frontal system forming south of WA, with a fetch of severe-gale pre-frontal W/NW winds being followed closely by a secondary fetch of severe-gale to storm-force SW aimed towards Tassie.
A large long-period SW groundswell should result, filling in Thursday and peaking at this stage around 6ft on the Surf Coast and 8-10ft on the Mornington Peninsula. Winds look workable as well with a morning W/NW breeze on the Surf Coast, but we'll review this again on Friday.