Great this afternoon, onshore until Sunday
Victoria Forecast by Craig Brokensha (issued Wednesday 20th May)
Best Days: This afternoon Surf Coast, Sunday and Monday both coasts, Tuesday exposed coasts, Wednesday both coasts
Recap
Great conditions yesterday across both coasts all day, as a new strong but inconsistent S/SW groundswell filled in. The peak of this swell was expected through the morning, but the the swell seemed a little delayed but peaked at an infrequent and good 3ft on the Surf Coast with 4-5ft sets on the Mornington Peninsula.
Today the swell has eased back to a smaller 2ft on the sets across the Surf Coast and 3-4ft on the Mornington Peninsula under a strengthening N/NW breeze. The change due during the late morning has now stalled with the trough stalling to our west and we should see conditions remain good until the evening now as winds tend lighter N/NW.
This is great, as a strong new SW groundswell is due to build through this afternoon and reach 3-5ft on the Surf Coast by dark and 6-8ft on the Mornington Peninsula.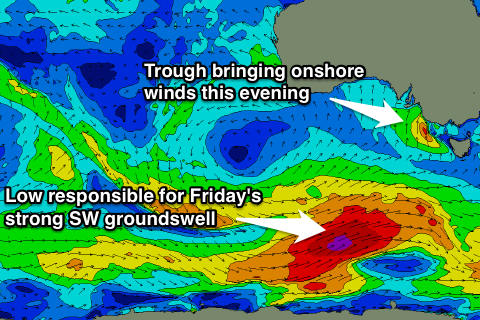 This week and weekend (May 21- 23)
Firstly, this afternoon is worth a surf west of Melbourne, with the delayed change and building swell, so if you have the time to hit the coast, do it.
Into tomorrow and Friday the surf will be a write-off as the onshore change moves through bringing a fresh to strong S/SW breeze tomorrow along with a kick in windswell and easing groundswell from today, in the 3-5ft range on the Surf Coast and 6-8ft on the Mornington Peninsula.
Friday will see poorer S/SE winds that will remain fresh in strength, and this will be when the largest SW groundswell this week fills in. This is being generated by a vigorous polar frontal progression currently to our south-west, aiming a fetch of severe-gale to near storm-force W/SW winds through our south-western swell window.

The swell from this system should peak Friday to a solid 4-5ft across the Surf Coast and 6-8ft on the Mornington Peninsula but with those poor onshore winds.
A drop in size is due through the weekend, but a trailing fetch of W/NW tending W'ly gales on the tail of the strong polar low, will generate a reinforcing SW groundswell for Saturday, slowing this easing trend.
The Surf Coast is expected to drop a touch from 3-4ft Saturday morning, with the Mornington Peninsula easing from 6ft+, with Sunday seeing easing 3ft and 6ft sets respectively across both coasts.
Conditions will remain poor Saturday with a moderate to possibly fresh S/SE breeze, while Sunday will be the day to surf as winds tend variable and locally offshore across both coasts through the morning.
Next week onwards (May 25 onwards)
Monday and Tuesday will be best east of Melbourne as the swell continues to ease, becoming small to tiny on the Surf Coast (especially into Tuesday).
Winds will be great for exposed breaks with local offshore tending variable winds Monday and then similar but fresher winds Tuesday.
The next increase in swell will be a long-range W/SW groundswell for Wednesday, generated in our far swell window in the Southern Indian Ocean.
A long-lived but not especially strong frontal progression will generate this swell, with it due to arrive late in the day Tuesday and peak Wednesday to a very infrequent 2-3ft on the Surf Coast and 4-5ft+ on the Mornington Peninsula under strong N'ly tending N/NW winds.
Longer term a slightly bigger long-range SW groundswell is on the cards for later next week, but we'll have another look at this on Friday.