Wednesday, 9 October 2019
Great run of S/SE-SE swell
Sydney, Hunter and Illawarra Surf Forecast by Craig Brokensha (issued Wednesday 9th OCtober)
Best Days: Protected spots Thursday AM, Friday AM, Sunday AM, Monday morning, Tuesday morning
Recap
Monday's NE windswell faded from 1-2ft yesterday morning, while a small S'ly groundswell offered inconsistent 2ft sets across south facing beaches, clean through the morning ahead of a strong S'ly change.
This change was linked to a trough and deepening low forming in the Tasman Sea, with a new S'ly swell building from 3-4ft this morning across south facing beaches. Conditions were cool and clean early but have since become bumpy with a shift to S'ly winds and further increase in size.
This week and weekend (Oct 10 - 13)
These notes will be brief as Ben's on annual leave.
The take home point is that there's plenty of swell on the cards for the coming period and winds are now looking a little more favourable.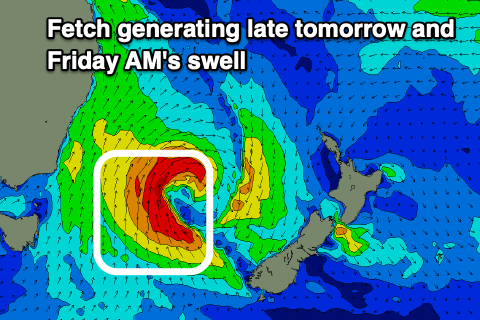 A deep Tasman Low is forming in the central Tasman Sea, with today's building surf generated by a broadening fetch of strong S'ly winds being projected up the southern NSW coast.
This afternoon and evening we'll see gale-force S/SE winds generated around the core of the low as winds directly off the coast weaken slightly.
A moderate sized mid-period S/SE is due off the gale-force fetch, but tomorrow morning we'll likely fall between swells, with a slight drop in size from this afternoon with 3-5ft sets across south facing beaches, larger in the Hunter and a little smaller across the South Coast.
The S/SE swell should arrive later in the day and kick to 4-5ft+ out of the S/SE, easing back from 4-5ft on Friday morning. Expect larger waves across the Hunter and a little less size across the South Coast again.
Winds will be best each morning and not for true south facing spots with a SW breeze tomorrow, tending S/SE through the late morning, and SE later arvo. Friday looks a little less favourable with light to moderate morning S/SW winds, fresh SE into the afternoon.
Now, moving into the weekend, larger levels S/SE-SE swell are due, owing to the Tasman Low drifting slowly south-east tomorrow to a position just west of New Zealand's South Island.
A slight re-intensification of the low should result in a fetch of strong to gale-force SE winds being aimed towards the southern NSW coast from tomorrow afternoon through Friday before weakening Saturday morning.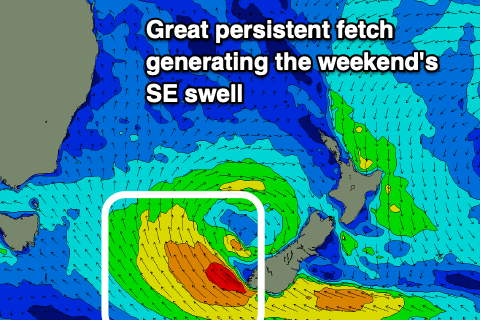 The swell from this source is expected to arrive Saturday and likely peak Sunday. Saturday morning should start around 3-4ft+ with the new swell kicking to 4-5ft later in the day and peaking Sunday to 5-6ft from the South Coast to Newcastle.
The swell should ease slowly Monday from 3-5ft, dropping more noticeably Tuesday from the 3ft range.
Winds on Saturday look the worst, fresh and onshore out of the SE-E/SE all day, but come Sunday lighter morning S/SW winds are due across most beaches, swinging E/SE through the day but only moderate in strength.
Monday looks the pick with the good sized and easing SE swell along with W/NW tending fresh NE breezes.
Longer term a mix of N/NE windswell and mid-period E/SE swell are due Wednesday/Thursday across the region, but more on this Friday.