Fun surf each morning to end the week
Sydney, Hunter and Illawarra Surf Forecast by Guy Dixon (issued Wednesday 28th October)
Best Days: Thursday morning and Friday morning.
Recap:
A short range southerly swell built along the coast on Tuesday under gusty southerly breezes. There was no shortage of size, with the surf building to the 4-5ft range although the quality was pretty hopeless.
Today brought much better conditions along the Sydney and Illawarra coasts with winds easing and tending offshore early. Unfortunately, due to the aspect of the Hunter coast, there were very few option for a clean wave under a southeasterly breeze. The surf was in the 4ft range along the Sydney and Illawarra coasts, slightly bigger across the Hunter
This week (Thursday 29th - Friday 30th):
Thursday morning is still looking like a promising window for a fun session with the surf likely to hold in the 3ft range with the occasional bigger set thrown in the mix, potentially up around the 4ft range at south facing beaches, bigger across the Hunter.
This energy was generated by the fetches on the western quadrants of a developing Tasman Low on Tuesday. These fetches have now become less favourably aligned and is moving out of the NSW swell window so it's impacts will fade throughout the day.
Winds for the early session are looking great, light/variable offshore, tending light northeasterly throughout the morning before eventually increasing from the east/northeast.
Despite this swell generator fading, a fresh southerly groundswell is likely to fill in late in the day generated by a modest frontal progression which has been moving south of Tasmania today.
This pulse isn't expected to bring an huge increase in size, but instead maintain 2-3ft surf across south facing beaches for the afterwork crew, more in the 3ft range for the Hunter.
Unfortunately, an afternoon onshore flow will have had an impact on the quality by this stage at virtually all spots.
Friday morning is will continue to see size off this system with south facing spots holding in the 2-3ft range, again bigger further north under light west/northwesterly breezes. A northeasterly seabreeze will increase sooner than the day before, limiting options to protected northern corners.
This weekend (Saturday 31st - Sunday 1st):
As we move into the early stage of the weekend, the surf is likely to have faded back to the inconsistent 2ft range at south facing beaches on Saturday with weak and insignificant frontal activity being the only provider of small background energy. Persistent north/northeasterly breezes will make for ordinary conditions, with options limited to protected northern corners.
This local north/northeasterly fetch is set to increase late on Saturday and throughout the overnight hours into Sunday whipping up a small northeasterly wind swell, however the latest models runs have actually dialled this system down.
Early risers for Sunday can expect to be greeted by 2-3ft peaks out of the northeast, largest at open beaches. Northerly winds may be a problem, so protected northern corners of south facing beaches will be your friend. The Illawarra looks to be under a more north/northwesterly flow, allowing for more workable options.
As we are all making the most of small weekend conditions, the Southern Ocean will be working hard to generate a strong southerly groundswell whipped up by a deep low and associated frontal progression. Core southwesterly fetches of 50-55kts are likely to result in a long period southerly pulse due Late Tuesday.
Next week (Monday 2nd onward):
Before we get too ahead of ourselves speculating about long period southerly swells, we must consider Monday, although unfortunately there isn't much to consider. We are likely to be left with weak and inconsistent remnants of northeasterly swell with peaks struggling to crack the 2ft range.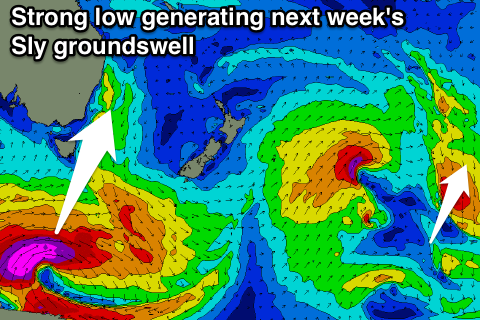 The morning session is looking at light/moderate northwesterly breezes, soon tending northerly and eventually onshore in the late morning/early afternoon.
Tuesday is likely to start off fairly slowly with weak remnants in the 1-2ft range. As the day progresses however, the groundswell discussed earlier will fill in allowing out facing beaches to build into the 3ft+ range, while the Hunter may see a few in the 4ft+ range. Also in the mix will be a shorter range southeasterly swell whipped up by an elongated fetch stretching across the Southern Tasman from the southern tip of New Zealand the day before.
At this stage, it looks as though a weak southerly change will have moved through under the cover of darkness, leaving south facing beaches in a bit of a state. By sunrise, breezes should only be light southeasterly, but an element of bump/chop is likely to be in the mix. Unfortunately, breezes don't look to improve in the afternoon, so keep your fingers crossed for the models to adjust the timing.
Wednesday morning is likely to see the peak of these two swells, with south facing beaches offering 3-4ft surf, bigger across the Hunter as usual. Forecasting winds accurately is pretty tricky this afternoon as the models diverge at this stage.
Further ahead, models suggest that a low will develop off the west coast of New Zealand, steering an increasing southeasterly fetch of 35-45kts throughout Tuesday afternoon/evening.
This has the potential to whip up a fun southeasterly swell for later in the week.
More details to come on Friday afternoon.