Multiple southerly pulses to end the week
Sydney, Hunter and Illawarra Surf Forecast by Guy Dixon (issued Monday 28th September)
Best Days: Thursday, Saturday and Monday
Recap:
Last week's large southerly swell eased slowly over the weekend. Most regions suffered from southerly winds and therefore bumpy conditions, however the Sydney and Illawarra regions did experience brief periods of early light W/SW winds, allowing for small windows of opportunity. The surf waned from around 3-5ft on Saturday to 3-4ft early Sunday (smaller further south) preceding a late afternoon bump in new southeasterly swell.
Conditions were generally much better across the board this morning with this fresh southeasterly swell holding in the 4ft range under light offshore winds. Light breezes have since swung around to the south/southeast this afternoon whipping up a few bumps, but easily workable.
This week (Tuesday 29th - Friday 2nd):
Over the coming days, the surf will gradually fade across all coasts. This easing trend will be slowed somewhat by a subtle pulse generated by a particularly weak low sitting that has been residing over the northern Tasman today. A small and weak easterly fetch off the southern half of this system will provide inconsistent back ground energy on Tuesday, mixing in with the easing SE swell, with sets around 2ft+ early, smaller later.
By Wednesday, all coasts should have faded back to the 1-2ft range, preceding a small kick in size due Thursday.
A low moving over Tasmania today is looking to move into the swell window of southern NSW by early Wednesday morning, steering a small south/southwesterly fetch of 25-30kt winds. There are a few problems with this fetch - firstly, its south/southwesterly alignment is not optimal, but it's also moving in an easterly direction across the swell window as opposed to a more favourable captured fetch.
Nevertheless, Thursday should see a building 2ft southerly swell at south facing beaches, possibly undersized at dawn. Models aren't really showing this pulse up very well at this stage, so it'll be interesting to see how it handles the next update. Winds look to be light/variable for the best part of the morning, leading too a good chance of light offshore breezes locally. Into the afternoon, an east/northeasterly seabreeze should increase across all coasts dropping the quality. Easing surf is then expected Friday.
We then have to look to the Southern Ocean for the next swell generating systems which are looking promising for healthy weekend surf.
This weekend and next week (Saturday 3rd - Sunday 4th onward):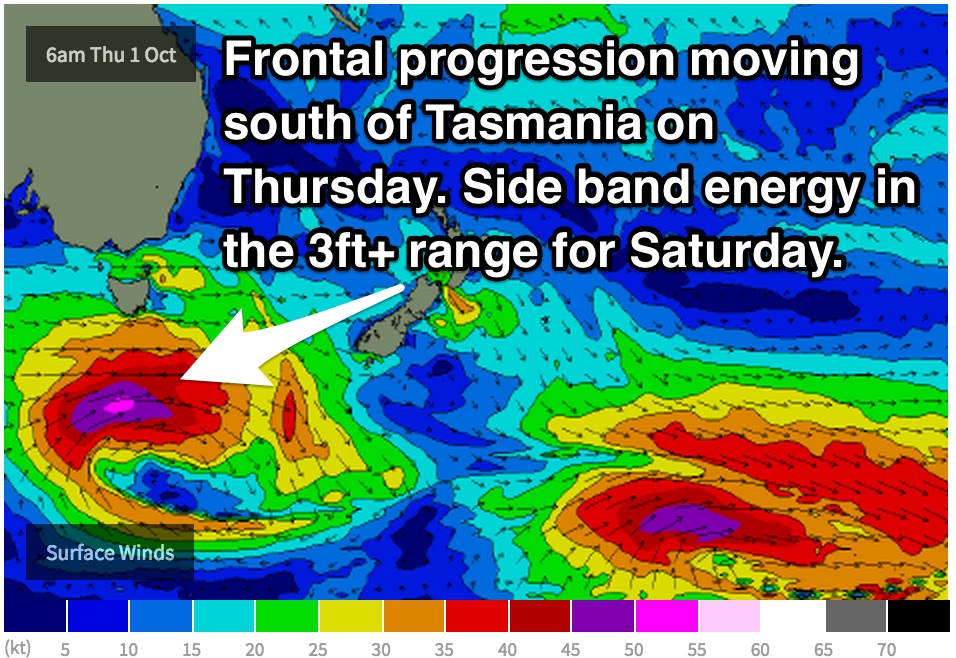 A strong front and low should pass to the south of Tasmania on Thursday evening, with a westerly core fetch of 50-55kt winds. As this system moves east, the core winds will weaken and become more west/southwesterly, becoming marginally better aligned.
However, the most important part of this system is the southwesterly quadrant of the low where a trailing fetch will have a much more well aligned, but weaker southerly fetch of around 25-35kts. All these factors taken into consideration, we are in for some good sideband energy in the 3ft+ range due on Saturday, but only south swell magnets are likely to pick up this energy (note: the long period forerunners will be in late on Friday, but the size will be negligible). A light northwesterly breeze is expected to dominate over all coasts in the morning leading to fun workable conditions, before gradually swinging around to the northeast by the afternoon and deteriorating.
A second more intense system will pass across the swell window throughout Saturday but will lack a few key factors of the previous system. Firstly, the core fetch of around 55kts will maintain a stronger westerly component throughout the duration of its lifespan and will move in an easterly direction across the Tasman. However, with stronger winds, a fair amount of sideband energy will still be felt.
The other similar feature will be a southerly trailing fetch which again will be the key feature of this system. I'd expect the surf to again build into the 3ft+ range on Monday, exclusive to south facing beaches, with the very long period forerunners arriving the day before.
By this stage a ridge looks to be dominating over eastern Australia leading to generally light winds. A light offshore breeze in the morning is not out of the question along all coasts, followed up by a northeasterly seabreeze in the afternoon. Details will be more easily defined in the coming forecasts.