Easing S'ly swells, good NE swell later Sunday and Monday
Sydney, Hunter and Illawarra forecast by Craig Brokensha (issued Wednesday 13th July)
Best Days: Thursday morning, Friday morning, early Saturday, later Sunday, Monday
Recap
A strong S'ly groundswell filled in yesterday with 4-5ft waves across most south facing locations all day in between larger 6ft bombs sets. Open beaches saw more size due to the large swell period with 3-4ft sets across most spots. Winds were workable early across most locations early with an offshore breeze, but this gave way to a fresh S'ly into the afternoon (holding from the S/SW across the Northern Beaches a little longer).
The swell has backed off overnight and into this morning leaving 3-4ft waves across south facing beaches with less favourable S'ly winds across the Eastern Beaches and Cronulla and light morning offshores on the Northern Beaches.
This week (Aug 14 - 15)
We're looking at a slow drop in size across south facing beaches over the coming days and weekend as a couple of reinforcing pulses of S'ly groundswell are unlikely to go above what we currently have.
A good pulse for tomorrow has been downgraded a touch with the front being a touch weaker and more west in nature than ideal, while a late pulse Friday and Saturday morning is still on the cards but to no major size.
We should still see 3ft waves across south facing beaches tomorrow, with 2ft sets at open beaches before dropping into Friday morning to 2ft+. The pulse of refracted S'ly groundswell due later Friday and Saturday morning will be generated by a very strong polar front firing up into New Zealand this evening and tomorrow, with inconsistent 2ft to occasionally 3ft sets expected across south swell magnets.
Winds should be more favourable tomorrow morning, swinging offshore from the W/SW across most locations, and W'ly on the Northern Beaches ahead of onshore S/SE winds into the afternoon.
Friday looks to play out similar to Thursday morning with a light W/SW breeze across most locations ahead of E/NE breezes after lunch.
This weekend onwards (Aug 16 onwards)
A slow drop in inconsistent S'ly groundswell is due Saturday from 2ft to occasionally 3ft at south swell magnets and winds should be variable early but a freshening NE'ly is due into the afternoon, creating poor conditions.
This NE'ly will be related to a deepening inland surface trough slowly moving east and squeezing against a strong high pressure ridge in the Tasman Sea.
As the trough starts moving further east a tightening northerly pressure gradient will be seen, with a fetch of strengthening NE winds forecast to be aimed directly at us through Saturday afternoon/evening and Sunday morning.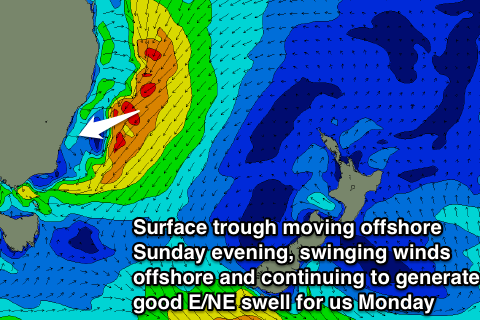 What will result is a steady increase in NE windswell growing into short-range NE swell, reaching 3-4ft across north-east facing beaches during Sunday afternoon (much smaller at remaining locations and tiny at south facing beaches). Winds are expected to be poor Sunday morning and fresh to strong from the N/NE along with poor weather and rain, but the trough is expected to move offshore during the day. This will swing winds offshore from the NW to W/NW at some stage during the afternoon, likely later rather than earlier!
With the trough moving offshore we'll see a drop in size from Sunday evening, but Monday should still offer good waves as a fetch of stronger NE gales well off the Seal Rocks region continue to be aimed in our swell window Sunday evening before drifting south early Monday.
This should keep 3ft to possibly 4ft sets hitting north-east facing beaches Monday morning under offshore W/NW winds before easing through the afternoon and further Tuesday out of the East from 2ft.
This won't be the end of the swell from this system though as a broad low is expected to form in the trough in the Southern Tasman Sea, with a fetch of strong to gale-force S/SE winds forecast to be projected up into us Tuesday evening and Wednesday.
This should produce medium to large sized S/SE swell for Wednesday that at this stage looks to come in at 5-6ft or so but along with strong SW tending SE winds. We'll review this all again along with Sunday and Monday's swell on Friday.