Friday, 8 January 2021
Small to tiny swells
Southern Tasmania Surf Forecast by Craig Brokensha (issued Friday 8th January)
Best Days: Beginners Saturday morning, Sunday morning, Monday morning, beginners Wednesday morning
Features of the Forecast (tl;dr)
Small clean waves Sat AM, tiny Sun
Small mid-period SW swell Mon wih morning N/NE tending variable winds
Recap
Strong, solid sets closing out Clifton yesterday, much better today and cleaner with fun 2ft sets across the South Arm.
This weekend and next week (Jan 9 - 15)
The weekend will consistent of small to tiny surf, best suited to bigger boards and beginners with 1-2ft waves tomorrow morning, tiny Sunday morning. A light N'ly wind will create clean conditions through the morning Saturday, giving into strong afternoon sea breezes, light W/NW Sunday morning ahead of S/SE sea breezes.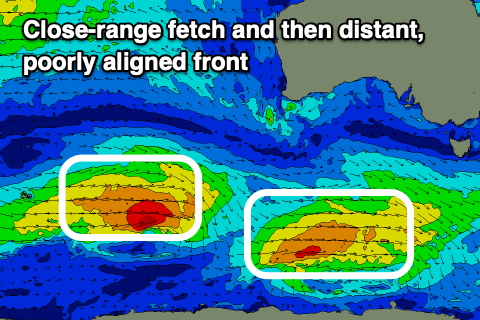 Our new mid-period W/SW swell for Monday now looks to have a better SW component in it, as the initial pre-frontal W/NW winds give way to a better W/SW fetch in our close-range south-western swell window tomorrow.
Fun 2ft sets are now due across Clifton Monday, fading from 1-1.5ft on Tuesday.
Conditions will be favourable Monday with a N/NE offshore, tending variable ahead of an incoming trough and late sea breezes that look to go gusty S/SW Tuesday as the trough moves through proper.
No swell is expected from the trough and otherwise we've got a tiny increase in W/SW swell Wednesday from a distant, poorly aligned front, and possibly stronger swell Friday but only to 1-2ft.
Therefore make the most of the clean, small waves over the coming days. Have a great weekend!