Monday, 3 July 2017
Nice mix of E'ly and S'ly swells to finish the week
South-east Queensland and Northern NSW Surf Forecast by Ben Matson (issued Monday 3rd July)
Best Days: SE Qld: Thurs/Fri/Sat: long period E'ly groundswell and offshore winds for the beachies. Northern NSW: Fri/Sat: combo of long period E'ly swell and building S'ly swell, with offshore winds.
Recap: A series of large S'ly then S/SE swells dominated the weekend's waves, though almost all of the action was contained south of the border. Saturday's south swell reached a wind-affected 6ft+ at south facing beaches south of Byron, and Sunday's renewal of S/SE swell came in at a similar size though was a little more defined, and less consistent (but gave a broader spread of size, owing to the tweak in direction). North of the border, Saturday's S'ly swell didn't amount to much more than 1-2ft+, whilst Sunday's S/SE swell briefly lit up the outer points with set waves somewhere north of 2ft but just shy of 3ft (a little under budget). However exposed northern ends were bigger and winds were more friendly. Today we've seen rapidly easing S/SE swell with early offshore winds ahead of a developing northerly flow. A new SE swell filled into southern NSW today, behind schedule across Northern NSW - though it should have been impacting the Mid North Coast by late afternoon (there's been no confirmation as yet, however our Park Beach surfcam looked promising).
Still some 3ft sets at Narrowneck this morning
This week (July 4 - 7)
We've got a very complex swell window ahead, with no great certainty for any major swells - but plenty of potential on the cards.
First off - our new SE swell will peak overnight (argh!) and then ease steadily through Tuesday morning - this will certainly be the best time to surf for the short term.
Exposed south facing beaches south of Byron should see occasional 3-4ft sets through the morning (smaller at beaches with less southerly exposure), and today's N'ly flow should veer NW, so we'll see clean conditions across the beaches. Aim for a northern corner for the most size and cleanest options.
This swell was generated by the final front in a series associated with the weekend's Tasman Low but it's positioned along way away. We won't see much size across SE Qld, just 1-2ft inconsistent sets at the outer points, however exposed northern ends should pull in occasional 3ft sets in the morning - they'll also be very inconsistent, but cleanest under these winds.
Wave heights will ease steadily during the day so make the most of the early session.
Now, we have an unusual E'ly swell approaching for SE Qld later this week.
Over the weekend, an incredible deep mid-latitude low developed south of Tahiti, in our long, long range eastern swell window. Most of this fetch was shadowed by the North Island of New Zealand, and in fact most parts of Australia's East Coast won't see any swell from it - but the weekend's satellite passes confirmed a broad fetch of 40kts+, some of which was on the periphery of Queensland's swell window.
Long period E'ly swells like this are uncommon, and the fact is that it'll be arriving at a time when there won't be a heck of a lot of motion in the ocean (at least, north of the border) - so we'll be able to properly assess just how much size reaches the coast - compared to other swells that arrive simultaneously with other events.
Our model has the leading edge of this swell making landfall very late Wednesday, but we'll probably see a small step-ladder building trend through Thursday ahead of a peak on Friday. And winds will be westerly throughout this period so the beachies will be clean.
The most crucial aspect of this swell is: at what point along the coast in Northern NSW will we see wave heights starting to fall, due the shadowing effects of New Zealand?
It's really hard to have confidence in these kinds of events, but as a ballpark I'd be expecting smaller surf south from about Coffs/Yamba or thereabouts. In reality we could see all kinds of local influences steering the swell into some coasts and away from others - long period E'ly energy is not common in these waters and the way they respond to the local bathymetry is different for each and every event.
So, let's ball park some numbers for now, and see how it pans out: very early 2ft+ sets at open stretches north from Byron starting Thursday morning, building up to 2-3ft+ through the afternoon and into Friday, then easing slowly from Saturday morning onwards. Size will gradually trend smaller as you head south from Coffs.
If anywhere has an enhanced chance of raking the most size, it'll be the Sunshine Coast (so, maybe a few bigger bombs here nudging 3-4ft+?). But remember: this swell will have been generated a very long way away so expect extremely long breaks between the sets. Between waves it'll be pretty much flat, which is the opposite to most trade swell events in this neck of the woods (and more like a session in Victoria, South Oz or West Oz).
Now, looking to our southern swell window, and Northern NSW has a few windows of opportunity but the outlook is certainly a long way away from what we've seen in recent months. And the main culprit is the Southern Ocean storm track - it's gaining strength through the Bight but it is too north in latitude and too west in longitude to be in any way favourable for us.
In Friday's notes I mentioned that a strong front exiting eastern Bass Strait on Tuesday could set up an acute south swell for late Wednesday and Thursday, but I also noted: "however, these swell sources rely critically on the fetch alignment - if it tends any more west, we'll see no surf at all; but if it veers SW then we'll see more size."
Unfortunately the models have tilted the fetch W thru' W/NW, which means no new swell for us at all. So Wednesday and Thursday are looking pretty small across the entire region from this source though it'll be clean with offshore winds (and we'll see building E'ly swells, as per the above notes).
A low associated with the front near Bass Strait will eventually push into the Tasman Sea, displaying gale force W/SW winds through Wednesday that will rebuild S'ly swells for possibly very late Thursday across the Lower Mid North Coast, more likely into Friday across the greater Northern NSW coast.
It's looking to be rather touch and go on the periphery of our swell window, but exposed south swell magnets south of Byron should see a decent waves to finish the week, somewhere in the 3ft+ range plus there'll be the added bonus of the east swell. Conditions should be clean with moderate NW winds.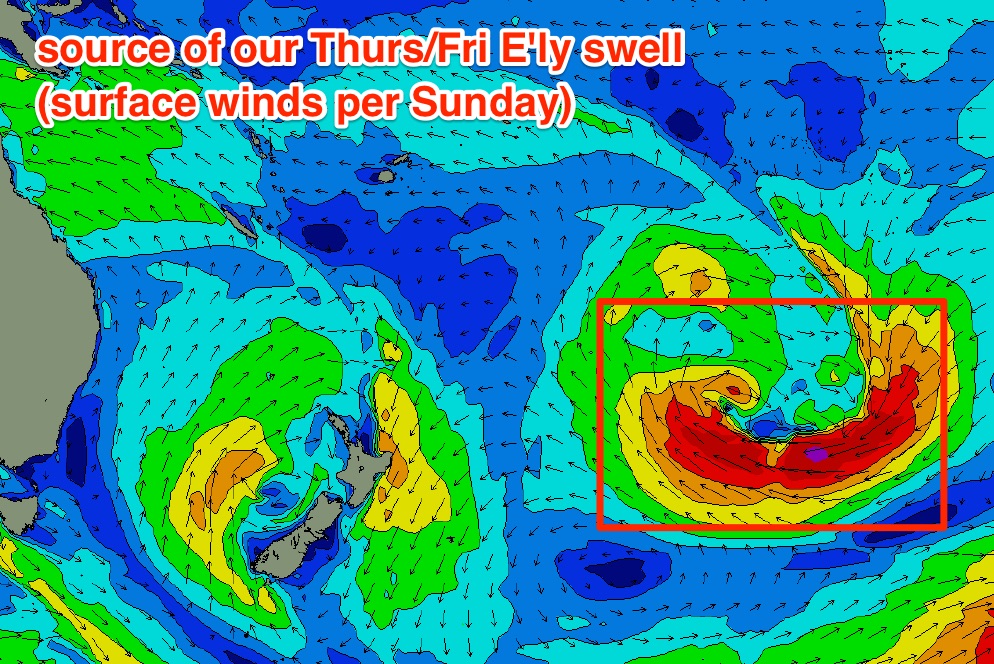 This weekend (July 8 - 9)
Friday's south swell will disappear through Saturday, potentially offering some early 2-3ft sets at south swell magnets south of Byron for the early session, but nought elsewhere. We'll also see Friday's E'ly swell easing steadily from Coffs north to the Sunshine Coast but again, make the most of the morning session for the best waves as it could be tiny by Sunday.
A minor new south swell may push up the Southern NSW coast on Sunday afternoon but it's unlikely to do much across our region. So, the rest of the weekend looks pretty flatastic at this stage .
Next week (July 10th onwards)
The models maintain a similar progression off Southern Ocean lows through next week, though at more southern latitudes which opens up the prospects of a better, longer lasting southerly groundswell event for Northern NSW through next week. It's still early days though.