Good run for the South Coast from Friday
South Australian Surf Forecast by Craig Brokensha (issued Wednesday November 2nd)
Best Days: Mid Coast for the keen tomorrow morning, South Coast Friday morning, South Coast Saturday, South Coast Sunday morning, South Coast Monday and Tuesday
Features of the Forecast (tl;dr)
Moderate sized mid-period S/SW swell for later Thu, Fri and Sat AM
Mod-fresh but easing S/SW winds Thu (S/SE-SE in the AM on the Mid)
Inconsistent SW groundswell for Fri PM with light NE-N/NE tending S/SE winds
Inconsistent S/SW groundswell building Sat PM, peaking overnight, easing Sun
N/NE tending weak SE winds Sat, N/NE tending fresher E/SE-SE winds Sun
Easing mix of swells Mon and Tue with mod-fresh NE winds Mon, stronger N/NE Tue
Recap
Solid though messy waves across the Mid Coast yesterday with a strong onshore breeze, still 2-3ft this morning and a bit more surfable with a fresh SW breeze. The South Coast has also been poor with strong onshore winds but sizey surf developing yesterday afternoon/evening, holding into this morning.
This week and weekend (Nov 3 - 6)
It looks like we'll have to wait until Friday for conditions to clean up across the South Coast, but luckily there's tons of swell and plenty more favourable conditions to come into the weekend and early next week.
At the moment we're seeing the cold outbreak linked to our current run of cold, windy and wet weather moving slowly east, and the localised S/SW swell generated by it will also drop into tomorrow.
This will be as some new, reinforcing mid-period S/SW swell fills in, holding Friday, then easing slowly later Saturday.
There'll also be stronger pulses of groundswell for Friday afternoon in the mix, as well as our secondary, better pulse of swell for later Saturday and Sunday morning.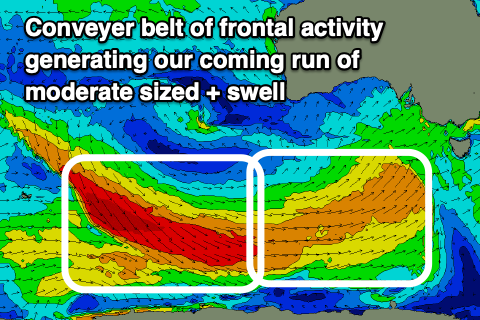 The progression linked to these swells, as a whole has been upgraded slightly and we're looking at a conveyer belt of favourable wind activity, mostly strong and acting on top of an active sea state, but also followed by a great fetch of gale to severe-gale W/NW-NW winds swinging in on its tail.
Size wise, Middleton should come in at a good 4ft from later tomorrow through Saturday, while the Mid Coast won't see any major size. Cleaner, easing 1-1.5ft waves are due tomorrow, holding around 1ft+ for the rest of the period working the favourable parts of the tide.
The trailing fetch of W/NW-NW gales will produce a final pulse of groundswell energy later Saturday and early Sunday morning, with 3-5ft sets due across Middleton, easing through the day Sunday, smaller into Monday and dropping from 3ft.
Coming back to the local conditions and tomorrow will see moderate to fresh but easing S/SW winds down South, S/SE-SE during the morning on the Mid Coast. Friday will become cleaner with a light N/NE-NE offshore, though there still might be a few lumps from tomorrow's onshore breezes. Afternoon sea breezes will kick in through the afternoon.
The weekend looks great with a N/NE offshore Saturday morning, giving into shallow sea breezes, then similar Sunday but with a fresher afternoon E/SE-SE sea breeze.
As we move into next week, a weak trough moving in from the west will squeeze the high to our east, bringing fresher NE winds Monday, strengthening from the N/NE on Tuesday as the swell becomes smaller but still fun on the South Coast swell magnets.
Following this there's nothing too significant, but more on this Friday.