Teasing westerly swells with favourable winds
South Australian Surf Forecast by Craig Brokensha (issued Monday April 4th)
Best Days: Keen surfers Mid Coast and South Coast tomorrow PM, both coasts Saturday, South Coast Sunday morning
Features of the Forecast (tl;dr)
Small, inconsistent mid-period W/SW swell tomorrow (likely peaking in the PM) with SE tending vairable winds on the Mid, NE tending variable down South
Easing inconsistent W/SW swell Wed with gusty S/SE winds
Small end to the week with fresh S/SE winds Thu, lighter E/NE Fri AM
Inconsistent, mid-period W/SW swell for Sat with N/NE tending SE winds, easing Sun with NW tending strong S/SW winds
Recap
Flat surf on the Mid Coast all weekend, with slowly improving conditions but fading surf down South. Saturday was lumpy and surfable, yesterday a touch cleaner but small and weak. Today conditions are clean but the swell is tiny.
This week and weekend (Apr 5 - 10)
Looking at the week ahead and the Mid Coast will offer the best waves this week owing to a strong high moving in from the west over the coming days, bringing fresh S/SE winds and some small, inconsistent mid-period W/SW swell.
Tomorrow morning should reveal light NE winds and clean conditions down South but tiny surf. The Mid Coast should see a fun, though generally tiny W/SW swell kicking in through the day, best into the afternoon, generated by a relatively weak but persistent progression of fronts through the southern Indian Ocean last week and into the weekend.
The swell hit nicely across Western Australia yesterday afternoon with it due to reach 1-1.5ft tomorrow afternoon, 2ft+ across Middleton later, easing from a similar 1-1.5ft Wednesday on the Mid and 2ft down South.
Those morning winds should tend variable into the afternoon across both coasts, creating clean conditions tomorrow with fresh SE-S/SE winds on Wednesday, strengthening into the afternoon.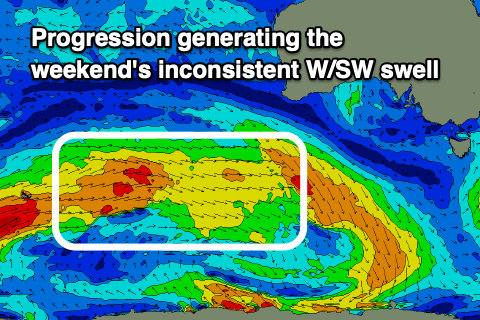 Winds will persist out of the S/SE on Thursday as the swell fades, tending light E/NE on Friday morning but with a low point in swell.
The weekend is looking better for a surf with a fun, new mid-period W/SW swell due into Saturday, generated by another relatively weak but elongated frontal progression that's currently firing up towards Western Australia. Fetches of strong W/SW winds will be aimed through our medium-range swell window, with inconsistent sets to 2ft to occasionally 3ft expected across Middleton with infrequent 1-2ft sets on the Mid Coast. The swell will ease slowly through Sunday likely from 1-1.5ft on the Mid and from 2ft across Middleton.
The high will slide east on the weekend, shifting winds N/NE on Saturday ahead of relatively weak SE sea breezes while an approaching trough will bring morning NW winds ahead of a strong S/SW change Sunday.
This trough will deepen into a low east of our swell window on the weekend, too late to generate any meaningful swell, with winds likely to become lighter into early next week but with a lack of surf.
Longer term smaller, weaker swells look to persist, but more on this Wednesday.