Improving conditions tomorrow ahead of strong fronts from Sunday
South Australian Surf Forecast by Craig Brokensha (issued Friday October 1st)
Best Days: South Coast tomorrow morning, dawn Sunday on the swell magnets down South, Mid Coast late Tuesday afternoon, Mid Coast Wednesday morning and South Coast Wednesday, South Coast Friday
Features of the Forecast (tl;dr)
New, moderate sized, mid-period S/SW swell arriving later today, easing tomorrow with variable tending E/NE and then SE winds, fresheing from mid-afternoon
Small leftovers Sun with strengthening NW winds, shifting W/NW into the PM
Building W windswell on the Mid Sun PM
Solid, stormy W'ly swell developing on the Mid Mon with strong W winds, building surf later in the day down South
Easing W/SW swell Tue with gusty W/SW-SW winds early, abating and tending variable late afternoon on the Mid, S'ly down South
Smaller Wed with gusty NE winds
New S/SW swell building Thu with strong SW winds, easing Fri with W/NW winds
Recap
Poor conditions across both regions yesterday and today with strengthening S winds yesterday and a chunky amount of swell to the 4ft range off Middleton. The Mid Coast was near flat in the morning with a junky windswell for the afternoon.
Today winds are still strong from the S/SW down South with a mix of swells and 3-4ft sets, junky and around 1-1.5ft on the Mid Coast.
This weekend and next week (Oct 2 - 8)
The attention will be on the South Coast over the coming days, ahead of windy westerly swells early next week.
Currently a mix of mid-period S/SW swell and S/SE windswell are breaking on the South Coast, and we'll see the windswell energy ease as a new, reinforcing pulse of mid-period S/SW swell arrives this afternoon.
The source of these S/SW swells has been relatively weak but persistent and broad polar frontal activity south-west and south of the country since the start of the week.
We should see later this afternoon's pulse keeping waves up around 3-4ft across Middleton, easing steadily back from 3ft+ tomorrow morning, while the Mid Coast will be tiny and to 0.5-1ft or so.
Winds should improve tomorrow as the broad low linked to the last couple of days poor conditions and storms pushes further east. This will see variable winds down South through the early morning (likely light NW) but tending E/NE mid-morning and then SE into the afternoon, freshening later. With this there should be plenty of time for a lumpy/peaky surf across the South Coast. The Mid will be clean ahead of weak sea breezes.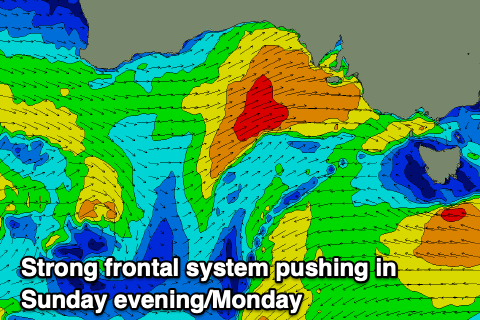 Sunday will be much smaller with sets easing back from 1-2ft across Middleton, best early at the swell magnets but with a gusty NW wind, strengthening through the morning and then shifting W/NW.
This strengthening and shift in wind will be associated with the first of a series of mid-latitude fronts pushing in from the west, with this small one being the precursor to a much stronger system on Monday.
Sunday's will kick up 2ft of windswell into the afternoon, but moving into Monday, we'll see a moderate sized W'ly swell filling in, generated by the secondary front projecting strong to gale-force W/SW winds through the Bight on Sunday.
This front will move in Monday, bringing an additional stormy windswell to the Mid with the Mid Coast due to kick to a solid 4ft along with strong W'ly winds.
The South Coast will be small owing to the W'ly swell direction, only kicking later to 3ft or so across Middleton with a shift in winds to the W/SW, easing Tuesday from the 4ft range along with abating W/NW tending SW and then S winds.
The Mid Coast will be interesting with easy 3ft sets in the morning, easing through the day as gusty W/SW-SW winds ease steadily, becoming variable into the late afternoon/evening. Therefore we should see improving surf all day, though easing in size.
We'll fall in between fronts on Wednesday, with fresh to strong NE winds due across both coasts, but the swell will drop quite a bit from Tuesday. The South Coast only looks to be 2ft while the Mid will be back to 1.5ft.
A secondary swell producing front for late week will be positioned more to our south-west, but still relatively weak. Were due to see fetches of strong to gale-force W/SW winds projected through our swell window mid-next week, generating a moderate sized S/SW swell for Thursday/Friday. Unfortunately strong SW winds are due Thursday as the front pushes through, swinging back to the W/NW on Friday, favouring the South Coast. We'll have a closer look at this on Monday though. Have a great weekend!