Large surf developing from the west with winds from the northern quadrant
South Australian Surf Forecast by Craig Brokensha (issued Monday August 30th)
Best Days: Later tomorrow on the Mid Coast, Mid Coast Wednesday morning, South Coast Wednesday (but more so the afternoon), South Coast Thursday and Friday morning, protected spots early Saturday down South and protected spots Sunday down South
Features of the Forecast (tl;dr)
Slightly smaller W/SW groundswell tomorrow AM, ahead of a building mid-period W/SW swell into the PM. Mod-fresh N/NW winds, easing and tending W/NW late afternoon
Mod-large mid-period W/SW swell for Wed AM ahead of a larger groundswell into the PM. Early light E/NE winds on the Mid, then freshening from the N through the day, moderate N/NE-NE winds down South, tending N/NW into the afternoon
Large W/SW groundswell easing Thu, with a reinforcing pulse for the PM with strong N/NE tending N/NW winds
Easing W/SW groundswel Fri with strong W/NW tending W/SW winds
Reinforcing W/SW groundswell arriving mid-late morning Sat with W/NW tending SW winds down South
Easing W/SW groundswell Sun with fresh W/NW winds, easing Mon with strong S winds
Recap
Tiny surf across the South Coast all weekend with the swell from late last week reaching a low point, while the Mid Coast saw some good W'ly swell energy filling in through yesterday with varying winds from the north-western quadrant. The morning was a bumpy 1-2ft while we saw a touch more consistency to 2ft into the afternoon but with lots of cross-chop.
This morning the swell was still hanging in at 2ft across the Mid Coast with early light winds, now wind affected. The South Coast is clean and seeing slow 2ft waves across Middleton owing to the westerly swell direction.
This week and weekend (Aug 31 – Sep 5)
The inconsistent W/SW groundswell seen across the South Coast today, providing infrequent 2ft sets across Middleton will hold tomorrow morning with a secondary, just as inconsistent swell due in the water.
The Mid Coast looks to drop back to 1-1.5ft on the sets ahead of a late increase in sizey mid-period W/SW swell energy, peaking Wednesday morning followed by the larger W/SW groundswell into the afternoon.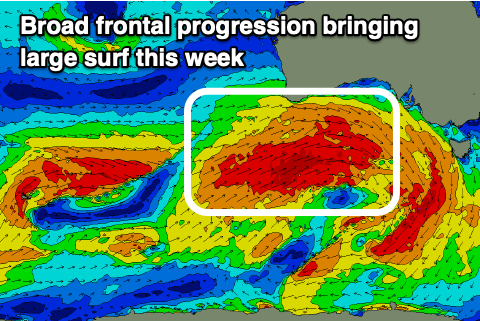 The source of all this swell is a vigorous frontal progression that's currently pushing up and under Western Australian. We've seen an initial fetch of W'ly gales push through our western swell window generating later tomorrow's and Wednesday morning's mid-period W/SW swell.
On top of this a stronger and better aligned fetch of severe-gale W/SW winds are pushing in under Western Australia, weakening while pushing under the Bight tomorrow while slipping south-east on approach to Tasmania.
The initial fetches will generate a moderate sized, mid-period W/SW swell for tomorrow afternoon and Wednesday morning. The Mid Coast should build to an easy 2ft tomorrow afternoon, if not for the odd bigger one, with the South Coast only increasing slightly in size to 3ft or so across Middleton.
Wednesday morning should come in around a stronger 2-3ft across the Mid Coast ahead of the lager groundswell into the afternoon, pulsing to a much more consistent 3ft. The South Coast looks to be around 4-5ft in the morning, building to 5-6ft later in the afternoon.
Thursday morning should revel similar sized surf across both coasts, 3ft or so on the Mid and 4-6ft across the Middleton stretch, with a reinforcing W/SW groundswell due to fill in through the day, slowing the easing trend.
This will be generated by a secondary front sliding east-southeast from under Western Australia, generating a pre-frontal fetch of severe-gale W/NW winds which will be best aimed for the South Coast.
It looks to keep 4-5ft waves hitting the Middleton stretch into Thursday afternoon, with 2-3ft waves on the Mid, dropping Friday from around 4ft down South and 2ft or so on the Mid.
Coming back to the local winds, and with the whole progression slipping south-east while approaching us, we'll see winds swing to the northern quadrant for the peak of the swell.
Tomorrow will be best down South (but remember small and inconsistent) with moderate to fresh N/NW winds, easing into the late afternoon but tending more W/NW. Wednesday looks great early for the Mid with a light E/NE offshore, but becoming bumpy with a freshening N'ly wind, tending N/NE on dark. The South Coast should see favourable N/NE-NE tending N/NW winds into the afternoon as the larger stuff starts to fill in.
Thursday will only be favourable for the South Coast with strong N/NE tending N/NW winds, choppy on the Mid. This will be ahead of a trough and change through Friday with strong W/NW tending W/SW breezes.
Looking at the weekend, and the swell from the initial progression will continue to ease, but arriving mid-late morning will be a new W/SW groundswell.
This will be produced by a final vigorous polar front pushing up and into Western Australia, generating a great fetch of SW gales through our western swell window. Middleton should kick back to 3-4ft+ with the Mid Coast being a little trickier though likely kicking to 2ft.
Winds won't be as favourable Saturday with an early W/NW breeze down South due to shift SW and then S/SW into the afternoon, SW all day on the Mid Coast. We'll hopefully see winds swing back to the W/NW on Sunday ahead of a surface trough as the swell eases, with strong S'ly winds moving in early Monday in the wake of the trough and as a high pushes in.
We'll look at this in more detail on Wednesday and Friday.