Strong swells and windows of good to great conditions
South Australian Surf Forecast by Craig Brokensha (issued Wednesday August 11th)
Best Days: Mid Coast tomorrow, Friday and Saturday morning, South Coast all days (Monday and Tuesday in the mornings)
Features of the Forecast (tl;dr)
Mix of mid-period and strong W/SW groundswell building late today with strong W-W/SW winds
Mod-large peak in W/SW swells tomorrow with moderate W/NW tending variable SW into the PM down South (moderate W/NW tending light NW on the Mid and variable late)
Easing W/SW swells Fri with NW tending W/NW winds down South, NE tending NW on the Mid
Moderate sized SW groundswell for Sat AM, easing later and further Sun
Moderate N/NW tending NW winds down South Sat, with NE tending N/NW winds on the Mid, fresher N/NW tending NW winds on Sun
Large SW groundswell filling in Mon with W/NW tending fresh SW winds, easing Tue with similar, weaker winds
Recap
Fading surf across the South Coast yesterday from a small 1-2ft max at Middleton with early light winds and clean conditions, windier and tiny into the afternoon. Today is clean again but still tiny as reach a low point in swell. The Mid saw a tiny N/NW windswell developing yesterday, back to near flat today.
Into this afternoon we should see some new mid-period and stronger W/SW groundswell filling in across both coasts but with strong W-W/SW winds.
This week and weekend (Aug 12 - 15)
This afternoon's mix of swells originated from the same source, that being a significant polar frontal progression firing up and into Western Australia since the weekend, with the remnants slipping east-southeast and then through the Bight the last couple of days.
A moderate-large mix of W/SW groundswell and mid-period W/SW swell will start to build later today, peaking tomorrow morning to 3ft across the Mid Coast and 4-5ft between Middleton and Goolwa.
Winds are due to shift back to the W/NW tomorrow morning down South, favouring protected spots tending weak SW into the afternoon. The Mid will see moderate W/NW winds at dawn, easing and tending light NW during the morning, creating good conditions for keen surfers with more variable breezes due on dark.
Friday looks favourable for both coasts again with a morning NW breeze down South, shifting light W/NW into the afternoon and easing 3-4ft sets across Middleton. The Mid should see a light NE tending NW breeze and easing 2ft sets.
We then look at our frontal system come polar low that's due to generate swell for the weekend and there's been a slight change in the structure and strength of this system.
The initial, pre-frontal fetch of gale to severe-gale W/NW winds look great, but the secondary W/SW fetch as the low forms now looks a bit fractured and weaker, with the energy going into a secondary low forming behind it.
But looking at this first system, and the pre-frontal fetch looks to be the main swell generator now, producing a great pulse from the SW on Saturday morning to 3-5ft across Middleton-Goolwa, with the Mid coming in at 1-2ft. The swell will ease slowly into the afternoon, then down further from 3ft+ Sunday morning owing to the weaker, trailing fetch of winds generating a softening, mid-period S/SW swell.
Winds on Saturday will be great for the South Coast and moderate N/NW tending NW, with NE tending N/NW winds on the Mid Coast. Sunday will see fresher N/NW tending NW winds and then W/NW late, favouring the South Coast over the Mid Coast.
Looking at the secondary low and we're due to see this fire up south-west of us on Saturday, generating a slow moving fetch of severe-gale W/SW winds through our south-western, then southern swell window.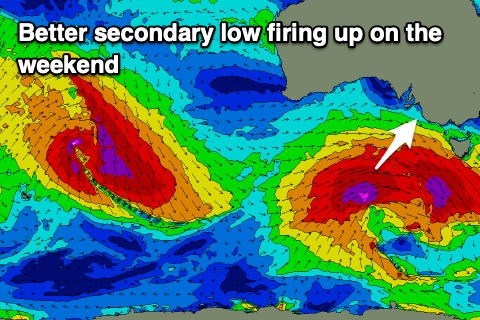 A larger, long-period SW groundswell is due off this source for Monday, building through the day and peaking into the afternoon to 5-6ft across Middleton with inconsistent 1-2ft sets continuing across the Mid Coast. Winds are dicey as the front clips the state bringing early W/NW breezes down South, shifting SW late morning and then weaker but similar Tuesday.
This will favour protected spots on the South Coast but we'll confirm this on Friday.