Great couple of days of surf for the South Coast
South Australian Surf Forecast by Craig Brokensha (issued Friday August 6th)
Best Days: Beginners on the Mid Coast tomorrow, South Coast tomorrow through Tuesday morning, then protected spots Thursday and Friday
Features of the Forecast (tl;dr)
Stronger SW groundswell tomorrow with NW tending variable winds (N/NE tending variable on the Mid)
Easing SW groundswell Sun with light N/NE tending N/NW winds
Reinforcing mid-period S/SW swell late Sun, easing Mon with moderate N/NE tending N/NW winds
Smaller Tue with strong N/NW winds
Mix of mid-period and strong W/SW groundswell building late Wed with strong W/NW winds, peaking Thu with fresh W/NW winds
Recap
Tiny, bumpy waves to 1-1.5ft across the Mid Coast yesterday, smaller today and to 1ft with a lingering onshore wind. The South Coast was OK but not great yesterday with the swell coming in at a weak 2ft with workable winds, better today with a stronger swell and good winds for protected spots. Sets are 3ft off the back of the Point and bigger towards Goolwa.
This weekend and next week (Aug 7 - 13)
With the first pulse of SW groundswell filling in today, we look to the secondary, stronger pulse of larger SW groundswell tomorrow.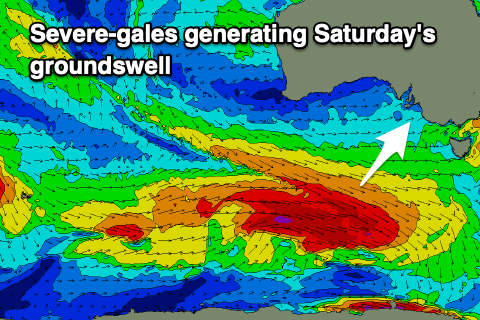 These swells were generated by back to back frontal systems tracking east-southeast from the southern Indian Ocean before spawning into polar lows under the country, tracking more favourably east through our south-western swell window.
The second system was stronger and broader than the first, and also acting on the active sea state ahead of it, producing a larger, longer-period SW groundswell for tomorrow.
Middleton should come in at 4-5ft with bigger sets towards Goolwa, with the Mid Coast coming in at 1-1.5ft on the favourable parts of the tide. Winds will be favourable for both coasts with a light N/NE tending variable breeze on the Mid, NW tending variable down South.
The easing trend will be slowed by trailing fetches of strong to gale-force W/SW winds drawn out behind the strongest polar low, spanning from under Tasmania to Western Australia. A final intensification of gales at the tail should also generating a reinforcing mid-period S/SW swell for late Sunday and Monday morning.
So looking at the expected sizes and the South Coast should ease slowly from the 4ft range on the sets Sunday morning, 1ft on the Mid Coast, with Monday easing back from 3ft down South across Middleton.
Winds will be great Sunday with a light N-N/NE offshore, tending variable N/NW into the afternoon, NE tending light N/NW on the Mid.
Monday looks great as well with moderate N/NE tending N/NW winds, with Tuesday offering fading 2ft sets across Middleton with a strong N/NW breeze owing to an approaching mid-latitude frontal system.
A low point in swell is expected Wednesday morning ahead of a late increasing in long-period and inconsistent W/SW groundswell, peaking Thursday morning.
The source of this swell will be a significant polar frontal progression projecting up and across Western Australia this weekend before pushing east towards us in a much weaker form.
While being in our long-range and distant swell window, we'll see severe-gale to storm-force W/SW winds generated, producing a strong, infrequent W'ly groundswell for Thursday. There'll be mid-period energy in the mix from the remnants of the storm pushing east through the Bight Monday and Tuesday, with it crossing us Wednesday.
Size wise, the groundswell will be moderate-large in nature, kicking later Wednesday to 2ft+ on the Mid Coast and 3-4ft down South, with Thursday seeing a peak to 3ft on the Mid Coast, with 4-5ft sets across Middleton-Goolwa.
Winds on Wednesday will swing from a strong N/NW'ly to the W/NW through the afternoon as the front pushes through with Thursday seeing moderate to fresh W/NW winds.
Into Friday W/NW-NW winds will persist along with moderate amounts of W/SW swell, but we may see a larger, better SW groundswell kicking late in the day, peaking Saturday. More on this in Monday's update though, have a great weekend!