Mixed period, best down South tomorrow
South Australian Surf Forecast by Craig Brokensha (issued Monday June 28th)
Best Days: Today down South, tomorrow down South, Mid Coast Thursday for the keen, South Coast Thursday, Mid Coast Saturday
Features of the Forecast (tl;dr)
Easing S/SW swell tomorrow with moderate N/NE tending N/NW winds, tiny Wed with stronger N/NE tending N/NW winds
New W/SW swell filling in Thu with freshening N/NW winds down South, N/NE early on the mid
Reinforcing W/SW swell for Fri with fresh W/SW-SW winds
Easing W/SW swell Sat with a weak S'ly swell for the South Coast with fresh S'ly winds
Easing swell Sun with more variable morning S winds
Recap
Friday's kick in swells down South were still coming in around 3-4ft Saturday morning with a workable W'ly breeze for protected spots, while a reinforcing swell for Saturday afternoon provided a bit more size than expected yesterday.
The surf held around 3-4ft across Middleton and with much cleaner conditions with great waves for the experienced.
The Mid Coast held around 1-1.5ft all weekend but with less than ideal conditions.
Today, the expected pulse of new S/SW swell has kept Middleton up around 3-4ft with favourable winds and 1ft+ on the Mid Coast.
This week and weekend (Jun 29 – Jul 4)
Today's final pulse of S/SW swell is the last from a flurry of polar frontal activity last week and we'll see it starting to ease late this afternoon, dropping back steadily through tomorrow and bottoming out Wednesday.
Conditions will be great for the South Coast tomorrow with a moderate N/NE tending variable N/NW breeze and easing sets from 2-3ft across Middleton, 0.5-1ft Wednesday but with a stronger N/NE tending N/NW breeze. The Mid Coast will fade in size, with 0.5-1ft sets max tomorrow, similar Wednesday as a tiny W'ly pulses fills in.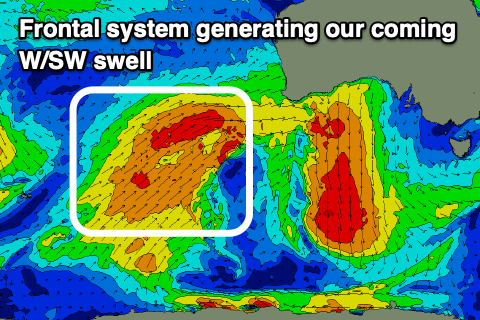 We then look at our W/SW swells due from Thursday and into Friday.
As discussed last week a flurry of strong frontal activity will push up and across Western Australia, through our medium-range westerly swell window.
Currently, the strongest part of this front is generating a broad fetch of strong to gale-force W/SW winds south-west of Western Australia, with the front weakening and breaking down slowly through this evening and tomorrow while pushing into the Bight.
This should produce a moderate sized, mid-period W/SW swell for Thursday, building into the afternoon and reaching 2ft to likely 3ft across the Mid Coast, with sets building to 3ft across Middleton.
Winds will be OK early on the Mid and NE, shifting fresh N/NW into the afternoon, clean all day down South, while Friday looks average as a secondary front racing in from the west brings a W/SW-SW change.
This secondary front will also bring an additional pulse of mid-period swell, keeping the Mid around 2-3ft with 3ft surf across Middleton early, increasing to 3-4ft into the afternoon.
It looks like we may see this front spawn into a low south of us on Friday afternoon and evening, aiming relatively weak but persistent S'ly winds into us. This will bring average conditions and fresh S'ly winds Saturday down South, weaker Sunday but lingering. There might be a period of more variable winds Sunday morning but we'll see.
Size wise, Friday afternoon's increase in size down South will be mid-period S/SW energy, easing back from 3-4ft on Saturday, smaller Sunday. The Mid should ease back from 2ft on Saturday and with cleaner conditions under a S/SE breeze.
Longer term there's still no significant Southern Ocean frontal activity, but we'll continue to keep a close eye on this and give the earliest update when it might kick in again.