Weak, slow weekend but surfable, more action next weekend
South Australian Surf Forecast by Craig Brokensha (issued Friday March 26th)
Best Days: South Coast keen surfers Sunday and Monday morning
Features of the Forecast (tl;dr)
Easing W/SW swell tomorrow with W-W/SW winds
Small, weak swell Sun with variable (local offshore) morning winds and weak sea breezes
Tiny W/SW swell next Thu/Fri
Better activity into next weekend
Recap
Clean conditions in protected spots yesterday morning down South but not much in the way of size, poor on the Mid with a mix of windswell and building mid-period swell to 1-2ft or so.
Today conditions were much cleaner across both coasts with a full, inconsistent 1-2ft wave on the Mid, 2-3ft across the Middleton stretch down South but an approaching front will bring increasing winds out of the west this afternoon.
This weekend and next week (Mar 27 – Apr 2)
The coming days of surf aren't too flash unfortunately with the swell from today due to ease back in size over the weekend, replaced by weaker, smaller background energy.
The Mid Coast will likely hang around 1-1.5ft from weak fronts pushing through the Bight, with the South Coast hovering around 2ft on the sets across Middleton.
Winds tomorrow will be onshore and average, moderate to fresh W/SW across the Mid Coast with a period of W'ly winds likely in the morning around Victor. More variable breezes should be seen Sunday across both regions ahead of weak sea breezes. This is the pick for the South Coast on the weekend.
The weekend's weak mix of swells will fade into early next week and a light NE breeze will create clean conditions down South Monday, E on the Mid but it'll be 1-1.5ft max.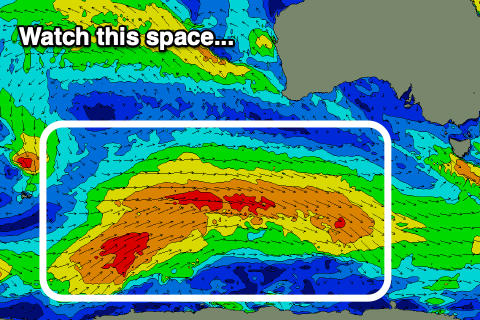 There's a slight pulse of SW swell showing on the charts for Tuesday but its source is average at best, and we're not expecting to see any size above 2ft across Middleton, tiny on the Mid and with easterly winds.
As touched on in the notes earlier this week, the frontal progression firing up towards Western Australia isn't expected to generate much in the way of swell at all (maybe 1ft waves on the Mid Thursday/Friday) but we'll finally see some more significant action developing later next week and into the weekend.
It's still early stages but we should see a strong polar frontal progression firing up south-west of Western Australia, pushing east-northeast towards us on the weekend, generating a much more autumnal looking run of swell. More on this next week though. Have a great weekend!