Friday, 26 February 2021
A forecast for the keen beans
South Australian Surf Forecast by Craig Brokensha (issued Friday February 26th)
Best Days: Keen surfers South Coast tomorrow morning, similar Sunday, Wednesday morning down South for the super keen
Features of the Forecast (tl;dr)
Easing mid-period S/SW swell tomorrow with light E-E/NE winds ahead of S/SE sea breezes
Inconsistent, long-period SW groundswell for Sun with light to moderate S winds, freshening, easing Mon with mod-fresh S/SE winds
Poor winds and surf from Tue - Fri
Potential next weekend for E/NE-NE winds and a fun SW swell
Recap
Tiny waves on the Mid Coast the last couple of days, while the South Coast was small and bumpy yesterday, better today with an increase in new S/SW swell and more variable winds out of the E.
This weekend and next week (Feb 27 – Mar 5)
The coming forecast period isn't too flash unfortunately and you'd be best making the most of a window of light winds tomorrow down South before the south-easterlies kick back in through next week.
Today's pulse of mid-period S/SW swell was generated by a poorly structured and short-lived cold front firing up south-southwest of us yesterday.
The swell will ease back into tomorrow from 2ft to possibly 3ft across Middleton under a light E'ly breeze, possibly tending E/NE at periods ahead of sea breezes. The surf won't be clean and more lumpy/wobbly, only for the keen for all intents and purposes.
Late in the day our new, long-period SW groundswell should start to build across the South Coast ahead of a peak Sunday.
The source of this swell, being another 'bombing' low that formed around the Heard Island region early this week is now weakening south-west of Tasmania. The chart right shows the current open ocean swell.
The swell will be inconsistent but strong with 3-5ft sets due across Middleton (4-5ft at Goolwa) and bigger at more exposed breaks, peaking through the middle of the day/afternoon. It may be a touch undersized at dawn. The Mid Coast will be tiny and only to 1ft or so.
Winds will spoil the swell though with a light to moderate, workable S'ly breeze Sunday morning, fresher into the afternoon, moderate to fresh S/SE on Monday as the swell eases back from 3-4ft across Middleton. So even with the onshore wind, Sunday is worth a surf or two on the South Coast.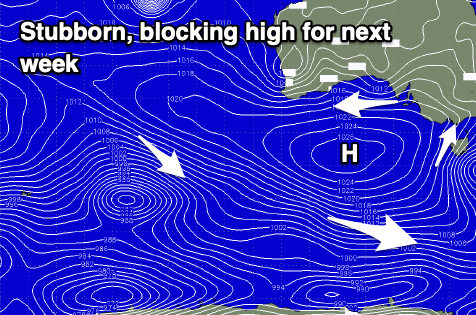 For the rest of the next week we'll fall under the influence of a strong, stubborn and slow moving high pressure system. This will move in early next week, directing persistent, strong winds out of the eastern quadrant, tending more E'ly each morning from Tuesday.
With this pattern of morning E'ly winds and stronger afternoon S/SE winds, the surf will have little time to sort itself out and we'll see the groundswell from the weekend fading, replaced by localised S/SE windswell.
All in all it's nothing too flash with fresh E/SE winds due Tuesday morning, E-E/NE on Wednesday morning with a peaky mix of swells to 2ft+ across Middleton.
Winds look similar Thursday with less swell again, possibly cleaner Friday morning but 1-2ft max and just windswell.
Into next weekend some new SW swell is on the cards, generated by a cold front skirting around the base of the blocking high, and winds look to slowly swing more E/NE-NE. We'll have a closer look at this on Monday though. Have a great weekend!