Friday, 15 January 2021
Windy and onshore until mid-week
South Australian Surf Forecast by Craig Brokensha (issued Friday January 15th)
Best Days: Keen surfers Friday, beaches Saturday morning, keen surfers Tuesday and Wednesday mornings
Features of the Forecast (tl;dr)
Moderate sized S/SW swell kicking later today, easing tomorrow but with strong S/SW winds
New S/SW swell for Mon but with moderate to fresh S'ly winds
Final S'ly groundswell later Tue and Wed Am as winds tend light E/NE-NE Wed AM, smaller Thu with dawn variable winds
Recap
A very short window of clean conditions down South yesterday before a strong onshore change moved through, clean but tiny on the Mid Coast. Today we've got a new SW groundswell and localised windswell from a trough pushing in across us, but conditions are bumpy-choppy and not too flash at all. We'll see the size kick further down South later in the day to 4-5ft from a tight, intense low that's projecting into our South East, but more on this below.
This weekend and next week (Jan 16 - 22)
While there's the SW groundswell present across the coast this morning, a strong, small low that spawned off the storm linked to the groundswell has been projecting a fetch of strong to gale-force SW winds into the South East of the state.
We should see a solid kick in S/SW swell from this low later today, reaching 4-5ft across Middleton (upgraded from Wednesday owing to the low being better positioned in our swell window), while the Mid Coast should maintain 1-2ft sets.
A peak in size is due overnight, with the swell easing tomorrow from the 4ft range across Middleton but with strong S/SW winds. The Mid Coast is likely to see winds tend S-S/SE through the morning but the swell will be tiny and easing from 1ft to occasionally 2ft.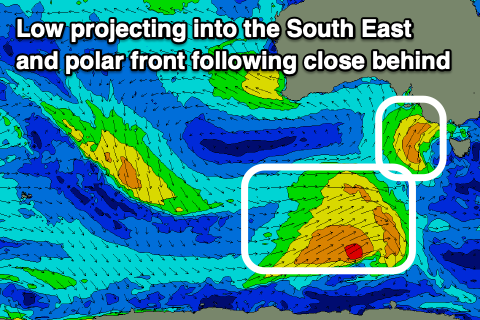 Winds will back off a touch in strength on Sunday across the South Coast, moderate to fresh, but this will continue to create average conditions. The swell will be smaller and back to 2-3ft across Middleton, tiny on the Mid Coast. Later in the day and more so Monday, a new mid-period S'ly swell is due across the South Coast, with a secondary pulse for Tuesday afternoon and Wednesday morning.
The source of this swell is a polar front that's firing up behind the low that's currently pushing into us, with a fetch of strong to sub-gale force SW winds forecast to be projected through our swell window.
The swell looks a touch weaker than forecast on Wednesday with 3ft+ sets due across Middleton Monday morning, easing through the afternoon. The swell isn't likely to drop below 3ft into Tuesday as a secondary weaker front projects towards Victoria, producing some reinforcing S/SW swell though locally winds will remain poor. A moderate to fresh S'ly is due Monday, S/SE-SE on Tuesday, while we're finally expected to see conditions improve from Wednesday.
A trough approaching from the west should swing winds to the E/NE-NE Wednesday morning along with one final pulse of S'ly groundswell before the polar frontal activity is shifted too far east and out of our swell window.
The final front will be strongest but very short-lived with a burst of S/SW gales forecast through our southern swell window Monday, producing a late kick in size Tuesday to 3-4ft across Middleton, easing from a similar size Wednesday morning. We may see a period of early variable winds Thursday morning, but the swell will be smaller and easing from 2ft to possibly 3ft.
It's worth noting that the Mid Coast will be tiny to flat through this period owing to the fronts pushing up through our southern swell window, blocked by Kangaroo Island.
Longer term we may see a new S/SW groundswell next weekend with improving winds, followed by a possible mid-latitude low the week after, though the swell generating properties of this low look minimal. More on this Mon. Have a great weekend!