Poor run for the South Coast
South Australian Surf Forecast by Craig Brokensha (issued Monday 14th October)
Best Days: Mid Coast Wednesday
Recap
Nothing to surf on the Mid Coast over the weekend with a mix of southerly swells keeping the South Coast active. Saturday started a bit bumpy and not ideal but improved through the day, while Sunday was much cleaner and a new swell provided a little kick in size for the afternoon.
Today the S/SW groundswell from late yesterday has dropped leaving tiny though clean 1-1.5ft waves across Middleton, better at Waits and Parsons.
This week and weekend (Oct 15 - 20)
I hope you made the most of the northerly winds over the past couple of days, because from tomorrow, we'll be looking at typical summer conditions across the state with persistent high pressure and winds from the south-eastern quadrant.
The reason for the shift in patterns away from fun westerly swells to weaker southerly swells and poor winds for the South Coast is a shift in the westerly storm track towards the pole. This is known as a positive Southern Annular Mode (SAM/AAO) and we've seen this kick in over the past week, with it due to continue through next week.
Below you can see the SAM/AAO forecast and it's set to remain positive, keeping swell generating systems at a distance. With the westerly storm track slipping south we see high pressure dominate Australian latitudes and this will bring the poor winds.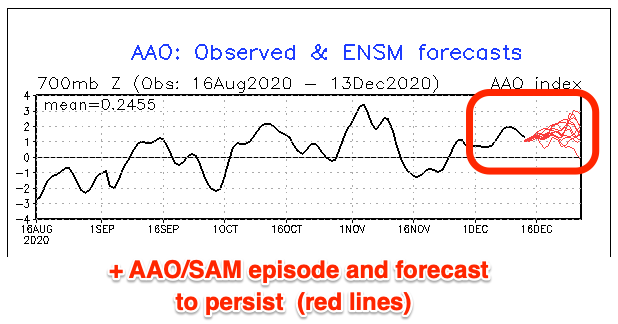 So overnight tonight we'll see a weak trough move through, with a strong, slow moving high due to fill in behind it, bringing fresh S/SW tending stronger S'ly winds for the South Coast, S/SE all day on the Mid.
Gusty S/SE winds look to continue Wednesday along with a localised and poor quality S'ly windswell that looks to peak around the junky 3ft range.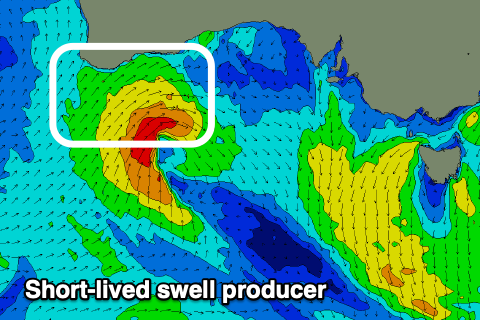 The Mid Coast should see a small W/SW swell from a mid-latitude low that developed under WA last night, but this will be very short-lived, weak and tracking east-southeast. The low is looking better than it did late last week though and we should see the swell magnets offering fun sets through the day.
A fun pulse to 2ft (on the sets) is expected across the Mid into Wednesday on the favourable parts of the tide (the large morning movements and minimal afternoon push won't help), back to a tiny 0.5-1ft Thursday.
A weak front pushing up and towards us Thursday looks to tip winds back to the S/SW on Thursday, fresh to strong on the South Coast, holding Friday though easing a touch. This will continue to create poor conditions as the S'ly windswell slowly eases from mid-week.
Lighter onshore S'ly winds are expected down South on Saturday but we'll be looking at small, weak surf.
A couple of weak polar fronts may generate some small, weak mid-period S/SW swell for Sunday though to no major size. The Middleton stretch should see 2ft to occasionally 3ft sets, tiny on the Mid Coast and with SE tending S'ly winds.
Longer term we may see a stronger polar front generating a good swell for next week with more favourable winds, but more on this Wednesday.