Monday, 10 August 2020
Small and weak period but there'll be a few small options
South Australian Forecast by Craig Brokensha (issued Monday 10th August)
Best Days: South Coast today and the magnets tomorrow, keen surfers Mid Coast Thursday and Friday, desperate surfers South Coast Thursday and Friday
Recap
Tiny and clean waves on the Mid Coast Saturday and Sunday while the South Coast was poor and junky with plenty of size but moderate to fresh onshore winds.
Today conditions are cleaner down South along with a mix of S/SW groundswell and S/SE windswell easing from a lumpy 2-3ft, 1ft on the Mid.
This week and weekend (Aug 11 - 16)
Make the most of today's size down South as the surf will ease further tomorrow and bottom out across the region from Wednesday.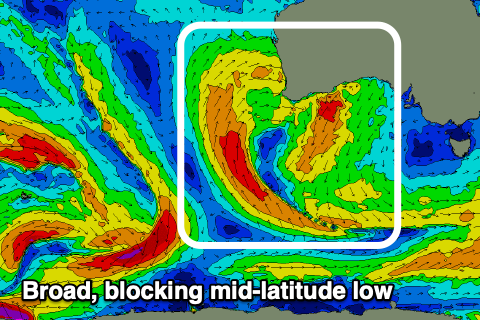 The current synoptic setup sees a strong low off the southern NSW coast, linked to the weekend's SE winds, now drifting off to the north-east, while just off Western Australia and broad and elongated mid-latitude low is extending from Exmouth to Tasmanian latitudes.
This is putting a big block across our main swell windows and through the week the low will slowly weaken while pushing east.
With this we'll see winds strengthen from the N/NE tomorrow with the South Coast easing from 1-2ft across Middleton, a touch better on the swell magnets (tiny and wind affected on the Mid).
Wednesday looks tiny to flat as winds ease off a little though persist from the N/NW, tending NW through the afternoon. Thursday should then NW tending W/NW winds as the remnants of the low pushes in.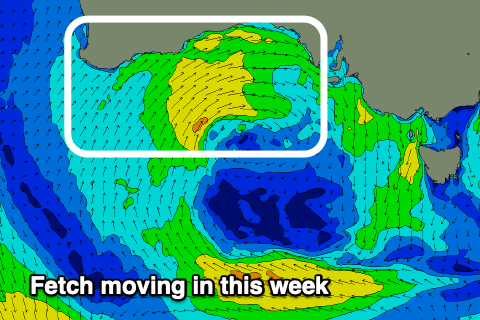 As the low does so it'll generate a weak though favourable fetch of strong W/SW winds, kicking up some late size on the Mid Wednesday but more so Thursday with building sets to 2ft to nearly 3ft into the afternoon (though bumpy), easing Friday from 2ft+. The South Coast isn't expected to see much over 1-2ft across Middleton later Thursday and Friday along with persistent N/NW-NW winds.
Into the weekend there's nothing major expected, though a lingering fetch of weak W/SW winds should produce some small 1-2ft of swell for the Mid Coast. The South Coast looks to become tiny across Middleton and lingering W/NW-W/SW winds will favour protected spots down South, possibly cleaner Sunday.
Longer term a mid-latitude low again moving in from across WA looks to generate some more significant W/SW swell for mid-late next week, but more on this over the coming updates as the models diverge.