Monday, 3 August 2020
Winds deteriorate as swells swing more to the south
South Australian Forecast by Craig Brokensha (issued Monday 3rd August)
Best Days: South Coast today, Mid Coast tomorrow for the keen, South Coast Wednesday morning, for the keen Thursday morning, Friday Mid Coast
Recap
Bumpy 1-1.5ft waves on Saturday with northerly winds, much better down South and to 2ft across Middleton, a touch bigger on Sunday morning on both coasts with variable winds.
Today an even better W/SW groundswell has filled in with clean conditions across both coasts and sets to 2ft, 3ft off Middleton.
This week and weekend (Aug 3 - 9)
Make the most of the clean conditions across the South Coast today as we're set to see winds go fairly poor and average for the coming week or so, especially compared to the recent run of conditions.
We'll see today's W/SW swell drop back in size across the Mid Coast and a freshening S/SW breeze this afternoon will shift S/SE tomorrow with 1-1.5ft+ leftovers for the keen.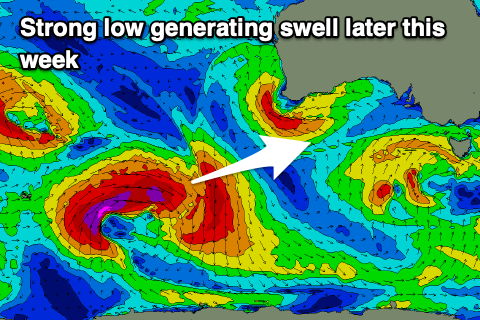 A large S/SW groundswell should be seen on the South Coast though, produced by a strong polar frontal system projecting up and towards us yesterday while generating a great fetch of S'ly gales.
This is expected to peak around 6ft+ across most breaks (bigger sets on the deep water reefs) but with that poor onshore wind. Unfortunately the swell will be too south to influence the Mid Coast, with the easing swell as noted above from today.
Wednesday morning looks to be the only real opportunity for a decent wave on the South Coast as winds shift back around to the N/NE-NE temporarily and the S/SW groundswell eases. From here winds will start to strengthen and persist from the east to south-east as a strong surface low moves east, north of us, squeezing a strong high to our south.
Thursday could see E/NE winds, but the cleanest conditions will be seen Wednesday with easing sets from the S/SW to 4-5ft+.
Thursday will be a bit smaller again and down from 3ft as we fall in between swells.
Now, the low moving east will squeeze the high later week and into the weekend bringing strong E/SE-SE winds across the state and kicking up a moderate sized SE windswell for the South Coast.
It'll also spoil a good new long-period SW groundswell that's due to arrive later Thursday and peak Friday.
This swell and a secondary for Sunday will be generated as a series of strong polar fronts move through our swell window on the bottom of the high.
The first is currently a strong polar low south-west of WA and we'll see this system project a fetch of gale to severe-gale W/NW to W/SW winds through our south-western swell window, weaker and out of the W/SW through our southern swell window before projecting up and under Tassie.
The long-period groundswell is due to peak Friday with 1-1.5ft+ sets on the Mid Coast and 4-5ft sets down South, but with those strong winds. The surf will then ease Saturday with a possibly slightly smaller swell Sunday. More on this Wednesday though.