Monday, 6 April 2020
New southerly swell tomorrow, fading thereafter
South Australian Forecast by Craig Brokensha (issued Monday 6th April)
Best Days: South Coast tomorrow morning, Thursday morning swell magnets
Recap
Average and bumpy waves on the South Coast Saturday morning, building in size into the afternoon but best Sunday in protected spots for keen surfers with 4ft of swell off Middleton and westerly winds.
The Mid Coast was a stormy 3ft on Saturday, a touch cleaner though still a choppy 2-3ft yesterday.
Today the surf has cleaned up across both regions with a slower 1-1.5ft+ of swell on the Mid Coast, lumpy and 3-4ft down South.
This week and weekend (Apr 7 - 12)
The weekend and today played out pretty much to plan and with the majority of the mid-latitude storm pushing east and away from us, we'll see winds swing to the east-southeast over the coming days, with a final pulse of reinforcing S'ly groundswell down South, tiny on the Mid Coast.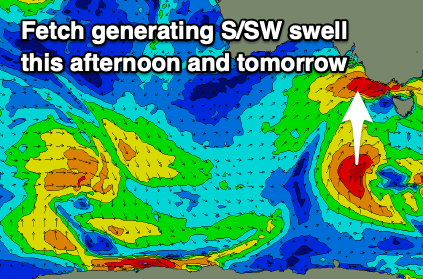 This S'ly groundswell was generated by a tight fetch of S'ly gales south-west of Tassie yesterday, around the core of a tight embedded low in the boarder progression seen over the weekend.
This swell should be there in the morning but is likely to peak through the day with 3-4ft sets off Middleton all day, then easing back from 2-3ft on Wednesday morning. The Mid Coast is likely to ease back to the 1ft range, only suitable for beginners.
Locally winds tomorrow should be light out of the E/NE (NE if we're lucky) as a high slowly moves in from the west, with fresh S/SE breezes into the afternoon, so try and surf before lunch.
Wednesday looks bumpier and average with fresher E/SE-E winds through the morning. Moving into Thursday conditions will become cleaner again with a NE offshore in the morning, but swell wise, we'll be looking at smaller surf than is showing on the forecast graph.
An uptick in size and period is being mis-represented with it generated by a low that was south-east of Madagascar late last week! Instead small and inconsistent 1-2ft waves are due off Middleton, a touch better at more exposed beaches, tiny Friday with a N/NW offshore, tending W/NW and freshening into the afternoon. This is likely to kick up a building windswell on the Mid but to no major size.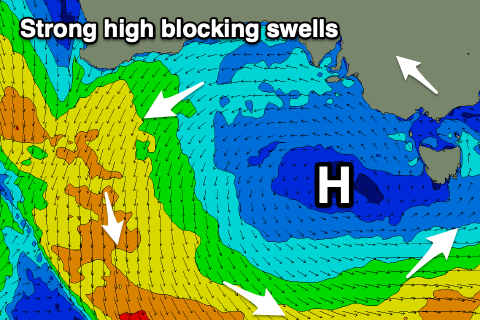 The lack of swell into the end of the week will be due to the strong high moving in from the west now, putting a block across our major swell windows. This looks to be squeezed out by a strengthening polar frontal system south of us late week.
At this stage it doesn't look like this will bring any decent swell for us, though the models diverge regarding this and into the weekend with total opposite scenarios.
EC has cold fronts pushing up and into Victoria while GFS has nothing and a mid-latitude low forming south-west of WA. We'll have a much clearer idea on the outlook come Wednesday so check back in then.