Monday, 17 February 2020
Good W/SW swell this week, but wind affected
UNLESS YOU LIVE AT THE BEACH, PLEASE DON'T TRAVEL TO SURF
COVID-19 is changing the way we think about surfing. Travelling to the surf now means you're putting an unnecessary strain on the resources of small regional communities. So, please stay home. If you live near the beach and want to surf, please maintain a healthy spacing in the lineup, don't hang in the carpark, and keep your surf sessions shorter to allow others the opportunity to get wet. Above all, stay happy, healthy and look out for one another.
South Australian Forecast by Craig Brokensha (issued Monday 17th February)
Best Days: Mid Coast late tomorrow and Wednesday, Thursday for beginners - Thursday morning desperate surfers South Coast, and similar Sunday morning
Recap
Average to poor surf all weekend with onshore winds and a junky S/SE windswell on the South Coast, flat on the Mid.
Today conditions were cleaner down South but the swell tiny across Middleton, better off across the swell magnets.
This week and weekend (Feb 18 - 21)
After the recent poor run of waves, we look towards the good W/SW groundswell due over the coming days.
This swell has filled in across WA today with large surf across the Margaret River region, on forecast and we should see the swell kicking tomorrow afternoon across our state, kicking to a good 2ft on the Mid Coast and 2-3ft down South.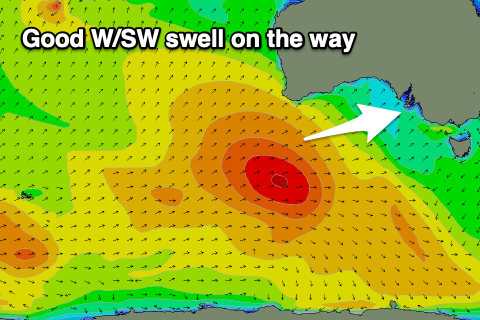 A peak is expected Wednesday down South with sets to 3ft+, while the Mid Coast should hang in around 2ft, easing slowly into Thursday (tiny on the Mid, dropping 2-3ft down South).
Winds tomorrow still look poor with a strengthening SW tending S/SW breeze, swinging S'ly on dark across the Mid, creating improving surf but only likely for the last half hour or so of light.
Wednesday is better with moderate to fresh S'ly winds, tending S/SE across the Mid Coast at times, while continuing to create poor conditions down South.
Thursday morning looks the best day to surf on the South Coast, though it'll be far from perfect with winds tending E/NE through the morning along with the peaky mix of easing swells from 2-3ft. The Mid will be clean but tiny.
We'll see S'ly winds move back in on Friday with the swell easing further in size.
The weekend again looks hit and miss, with E'ly winds Saturday morning but no decent groundswell, just a peaky S/SE windswell. Sunday is the pick of it though with variable NE offshore winds and an easing mix of swells from 2ft across Middleton, better at more exposed beaches.
Longer term we're looking at an improvement in local winds and good SW groundswell for early next week, but we'll have to have a closer look at this on Wednesday as the models are a little divergent on a possible mid-latitude low forming to our west.