Wednesday, 30 October 2019
Good run of W/SW swell with workable winds
South Australian Forecast by Craig Brokensha (issued Wednesday 30th October)
Best Days: South Coast magnets tomorrow morning, possibly both coasts late Friday, Saturday, Sunday and Monday mornings both coasts
Recap
Monday's good pulse of W/SW groundswell eased back to 1-1.5ft on the outgoing tide across the Mid Coast yesterday, kicking back to a good 2ft+ with the incoming tide (shown below) as winds eased off, while the South Coast was great and clean most of the day, best in more protected spots from mid-afternoon.
Today the Mid is back to 1ft, with smaller inconsistent 2ft sets on the South Coast off Middleton, best at Waits and Parsons.
This week and weekend (Oct 31 – Nov 3)
We'll see the surf continuing to ease over the coming 24 hours, with the South Coast not likely to offer much over 1-2ft from Day Sr to Goolwa, better at Waits and Parsons while the Mid Coast will be tiny.
Conditions look good with a fresh and possibly gusty N tending N/NW breeze, easing into the afternoon.
Friday morning is likely to start tiny ahead of our inconsistent W/SW groundswell into the afternoon. There'll be long waits between sets but Middleton should hopefully reach 2ft+ into the mid-late afternoon, while the Mid Coast will hopefully build to 1-1.5ft with the help of the incoming tide.
Winds at dawn look favourable and out of the N but a weak trough is forecast to move through during the morning down South bringing a SW change. The weak nature of the trough may result in winds going back W/NW through early afternoon Friday or even variable. It's a tricky one so keep an eye on local wind observations.
We've got some fun W/SW swell on the cards for the weekend, as a broad but relatively weak mid-latitude frontal progression will develop around WA and aim fetches of strong W/SW winds through our western swell window, but a low forming at the southern fringe if this activity is due to produce a tight and short-lived fetch of gale-force W/SW winds.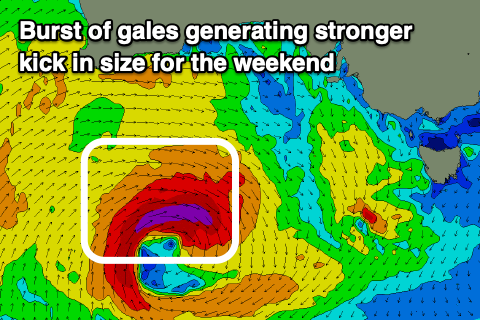 The fetch of gales should produce a pulse of stronger W/SW groundswell for Saturday, peaking through the morning to 3ft off Middleton while the Mid Coast seeing 2ft sets.
This swell should be replaced by mid-period W/SW energy into the afternoon and more so Sunday from the weaker fetches of W/SW winds, though better aligned for the Mid Coast.
Waves to 3ft are due on the Mid Sunday, while the South Coast might drop back a little to 2-3ft off Middleton.
There'll be plenty of reinforcing mid-period energy for Monday from trailing fetches of strong W/SW winds in our swell window, mostly to 2-3ft off Middleton and 2ft on the Mid.
Coming back to the local winds and Saturday morning should see a NW-W/NW morning breeze on the South Coast, more variable NW on the Mid ahead of sea breezes and then early variable winds Sunday morning ahead of a S/SW change, W/NW tending SW Monday.
Longer term a stronger mid-latitude low is forecast to move in by both ECMWF and GFS forecasting models early next week, generating a better W/SW groundswell for mid-late week, but more on this in Friday's update.