Wednesday, 9 October 2019
Clean on the Mid but tiny, generally average down South
South Australian Forecast by Craig Brokensha (issued Wednesday 9th October)
Best Days: Keen surfers South Coast tomorrow morning and swell magnets Saturday morning
Recap
Average though surfable 2ft waves on the Mid Coast yesterday with onshore winds, messy and sloppy down South with stronger southerly breezes.
Today conditions were cleaner across both coasts with a 1-1.5ft wave on the Mid, 3ft or so off Middleton and peaky/lumpy with a cross-offshore wind.
This week and next (Oct 10 - 16)
These notes will be brief as Ben's on annual leave.
A new pulse of stronger S/SW groundswell is due across the South Coast tomorrow, keeping Middleton up around 3ft, while the Mid Coast will drop to a tiny 0.5-1ft with the southerly swell direction.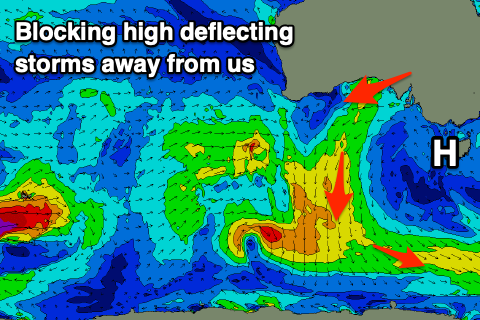 Winds aren't looking too flash and E-E/NE again down South through the morning ahead of S/SE sea breezes. Friday then looks poor as the swell eases with a moderate to fresh morning E/SE-SE breeze, S/SE into the afternoon.
The weekend is still void of swell as the slow moving high responsible for the south-easterly winds blocks any major swell generating systems firing up in our swell window.
Cleaner conditions should be seen Saturday morning with an E/NE-NE offshore, but the swell will be a peaky mix of S/SE and S/SW swells to 1-2ft off Middleton (try the swell magnets). Tiny surf is due Sunday with better N/NE offshore winds through the morning. A very tiny W/SW swell may be Sunday on the Mid but not over 0.5-1ft.
There's no new significant swell due until later Tuesday and more so Wednesday when a long-range SW groundswell fills in.
The source of this swell will be a strong but distant polar low forming south-west of WA later this week, breaking down south of WA on the weekend.
A small to moderate sized swell is due, peaking Wednesday around 3ft off Middleton and 1-1.5ft on the Mid Coast. Winds look to swing to the S/SE as a trough moves through, but we'll review this Friday.