Friday, 13 September 2019
Good weekend, more significant swells next week
South Australian Forecast by Craig Brokensha (issued Friday 13th September)
Best Days: South Coast tomorrow and Sunday, Mid Coast keen surfers Sunday, more so Monday, South Coast Tuesday through Friday
Recap
Good waves across the South Coast yesterday morning before winds picked up and shifted onshore, along with 3ft+ of swell off Middleton through the day, nice and clean again this morning with inconsistent 3ft sets.
The Mid Coast has hovered around a tiny 1ft, only suitable for beginners.
Today's Forecaster Notes are brought to you by Rip Curl
This weekend and next week (Sep 14 - 20)
We'll see the swell drop again into tomorrow morning across the South Coast, leaving 2-3ft waves off Middleton but conditions look great for more exposes spots with a N/NE tending N/NW breeze, possibly variable into the afternoon. The Mid Coast will remain tiny with E/NE tending N/NW winds.
Our new inconsistent W/SW groundswell for Sunday is still on track, with an additional pulse also in the mix.
The first and least consistent W/SW groundswell was produced by a vigorous frontal progression in the southern Indian Ocean this week.
The remnants of this progression are currently south-west of WA, with an unfavourable but strong fetch of severe-gale NW winds due to be generated at right angles to our swell window today, followed by a weaker fetch of W'ly gales early tomorrow.
Size wise, we should see the mix of W/SW groundswells building Sunday to 2ft+ on the Mid Coast and 3-4ft off Middleton later afternoon.
Winds look best for the South Coast with a fresh NW'ly, easing and tending more W/NW ahead of a trough and late afternoon S/SW change. The Mid Coast will be bumpy with N/NE tending N/NW winds and late S/SE change, likely after dark.
The remnants of the progression will strengthen south-southwest of us on Sunday, with a fetch of W/SW-SW gales generated through our southern swell window, producing a moderate to large sized S/SW groundswell for Monday and Tuesday morning.
Middleton should build further Monday to 4-5ft, but conditions will be poor with a S/SE breeze, with the Mid Coast dropping back to 2ft as the W/SW groundswell eases a touch. A distant front moving through the Mid's swell window today though should keep the swell persisting all day, easing from 1-2ft Tuesday.
Winds are expected to shift back around to the NE on Tuesday with the easing swell, clean across both coasts, with the South Coast easing from the 4ft range at Middleton.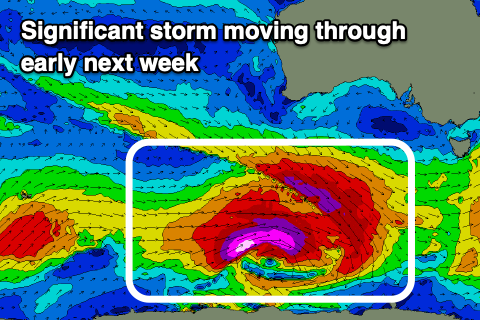 Of greater importance is a very significant polar storm forming in the wake of the weekend's activity.
This storm will develop south-west of WA on Sunday, with a pre-frontal fetch of severe-gale W/NW winds priming the sea state for a post-frontal fetch of storm-force W/SW winds, tracking east along the polar shelf through our south-western swell window before passing under Tassie on Tuesday.
This is quite a significant storm and a large, long-period and powerful SW tending S/SW groundswell will be generated, building later Wednesday and likely peaking under the cover of darkness, easing slowly Thursday.
The swell is due to peak to 6-8ft along the Middleton stretch and around Victor (but overnight), with the late pulse Wednesday likely to 4-6ft by dark, easing from 6ft+ Thursday morning. The Mid Coast looks to be tiny and to 1-1.5ft with the direction of the swell.
Winds will be excellent for the South Coast with a fresh and gusty N/NE breeze Wednesday, easing later, and stronger and trickier N/NE tending N/NW winds on Thursday.
Following this swell, a large W/SW groundswell is on the cards for next weekend as a deepening polar front come mid-latitude low fires up towards us, but more on this Monday. Have a great weekend!