Friday, 20 April 2018
Small to tiny W/SW swells, slow down South
South Australian Forecast by Craig Brokensha (issued Friday 20th April)
Best Days: Keen surfers on the Mid Coast tomorrow, South Coast magnets Monday, Mid Coast Wednesday keen surfers
Recap
Great waves across the South Coast yesterday with a good easing swell from 3ft on the sets off Middleton and weak sea breezes into the afternoon. The Mid Coast was tiny, and similar this morning.
The South Coast was best at magnets this morning with the swell really dropping away. We should see some small W/SW swell building to 1-2ft on the Mid Coast this afternoon and we're now seeing 1ft waves, with light winds.
Today's Forecaster Notes are brought to you by Rip Curl
This weekend and next week (Apr 21 - 27)
There isn't much in the way of swell across the region over the coming period until later next week.
Today's small to tiny W/SW swell was created by a relatively weak but persistent mid-latitude low moving in from the Indian Ocean and under WA mid-week.
We should see 1-1.5ft waves for the most part today and tomorrow, with 2ft sets on the favourable parts of the tide, fading Sunday.
The South Coast isn't expected to any size at all with tiny surf tomorrow, while a very inconsistent long-range W/SW groundswell is due to build Sunday.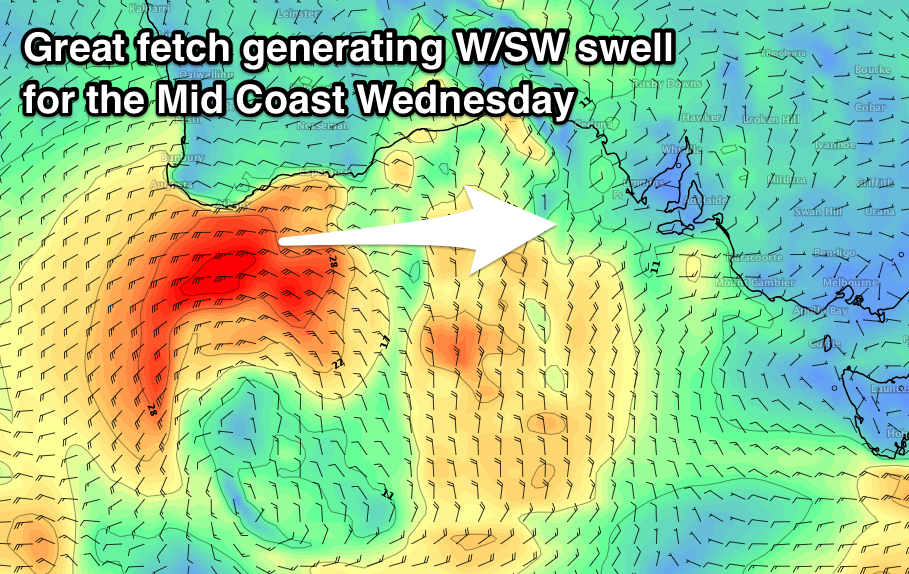 The swell was produced by a very strong and prolonged storm forming south of South Africa last Sunday, pushing eastwards through the Indian Ocean this week.
This swell isn't ideal at all with it being extremely inconsistent, west in nature and small, but In the absence of any other swells, it's all we have.
The Mid Coast is only due to see very inconsistent 1ft sets Sunday and Monday, while the South Coast should build to a very infrequent 2ft Sunday afternoon off Middleton, with 2ft to maybe 3ft waves Monday before easing Tuesday.
Coming back to the winds, and tomorrow we're now looking at a weak onshore S/SE'ly down South, best on the Midl, with better N/NE winds Sunday morning ahead of sea breezes.
Monday looks fun down South with a light NW offshore likely holding all day as a front approaches from the west.
This front will bring a spike in W/SW swell for the Mid Coast Wednesday, with it producing a tight fetch of strong to near gale-force W/SW winds under WA before pushing east and weakening.
There may be a little pulse late Tuesday, but Wednesday should reveal 1-2ft waves on the Mid Coast, tiny down South with likely variable W/NW winds and afternoon sea breezes.
Later in the week and into next weekend we're expected to see some better W/SW groundswell energy, produced by a series of strong but distant polar fronts firing up east of Heard Island over the weekend and pushing closer towards us through next week.
The first pulse of groundswell is due Friday ahead of a secondary strong swell Sunday with winds from the eastern quadrant, but more on this Monday. Have a great weekend!