Wednesday, 24 June 2015
Great weekend for both coasts, Saturday down South, Sunday on the Mid
South Australian Forecast (issued Wednesday 24th June)
Best Days: Thursday morning protected locations down South, Friday down South, Saturday both coasts, Sunday Mid and South Coast through the morning, Monday both coasts, Tuesday South Coast
Recap
Tiny choppy windswell across the Mid yesterday morning with a tiny clean swell down South which built a touch through the day offering late ones at exposed spots.
Today a better SW groundswell has filled in across the South Coast but with a fresh to strong onshore change, while the Mid saw a mix of NW and SW windswell to an average 1-2ft.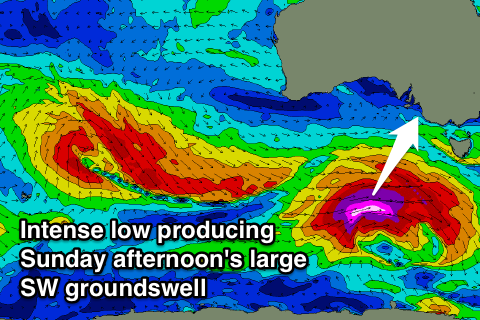 This week and weekend (Jun 25 – 28)
A drop in windswell and groundswell is due across both coasts tomorrow with lingering onshores on the Mid and W/SW breezes down South. We may see a W/NW'ly around Victor Harbor through the morning favouring Middleton with easing 3-4ft waves at Middleton and 4-5ft sets at Waits and Parsons (1ft to maybe 2ft on the Mid).
Into Friday some new W/SW swell is due to build slowly from some pre-frontal activity moving under the country today and tomorrow.
This should build to an inconsistent 3ft+ across the Middleton stretch through the afternoon with 4-5ft sets at Waits and Parsons, while the Mid should see 1-1.5ft sets.
Winds are looking generally fine with local offshore breezes, tending variable into the afternoon.
Later in the day the long-period fore-runners from the incredible frontal progression currently pushing through the Indian Ocean is due.
Through Saturday this swell should build further, with very inconsistent 3-5ft sets due across Middleton into the afternoon with 6ft waves at Waits and Parsons, while the Mid should see infrequent 2ft sets into the afternoon, both under local morning offshore, tending variable breezes.
Sunday is now looking larger after lunch, not only because a stronger and slightly more consistent long-range W/SW groundswell is due, but also because there'll be a stronger, large long-period medium-range swell also in the mix during the afternoon.
The stronger long-range swell is currently being generated by a broad and expansive fetch of severe-gale W/SW winds between Heard Island and WA, with it due to build through Sunday and peak into the afternoon.
The low spawning off this progression though will aim a fetch of severe-gale to storm-force W'ly winds while racing through our swell window this evening, tomorrow and Saturday, producing a large kick in SW groundswell, reaching 6ft+ at Middleton later in the day with 8ft sets at Waits and Parsons and offshore reefs.
The Mid Coast should see better 2ft+ waves Sunday morning with 3ft bombs into the afternoon. Winds will be great and offshore from the E tending variable on the Mid, while the South Coast looks a little dicey with a NE tending SE breeze.
Into next week Sunday's swell is due to still be large but easing Monday with better N/NE winds down South, that should tend more variable into the afternoon, while Tuesday will remain clean with a fun reinforcing SW groundswell into the afternoon. More on this Friday though.