Friday, 5 June 2015
Great down South all weekend, large swell next week
South Australian Forecast (issued Friday 5th June)
Best Days: Saturday both coasts, Sunday and Monday South Coast, Tuesday afternoon Mid Coast, Wednesday onwards South Coast
Recap
Tiny surf down South with an early offshore before an onshore change moved through and kicked up some building W/SW swell. The Mid started tiny and choppy ahead of a building stormy windswell that reached 3ft into the afternoon.
Today the change responsible for yesterday's poor conditions is quickly clearing east and this will result in winds tending variable this afternoon, with a mix of new swells. The Mid's in the 2-3ft range and should become cleaner into the afternoon, with plenty of average surf down South that will take a little longer to improve. Try protected locations late in the day for a wave if you're desperate.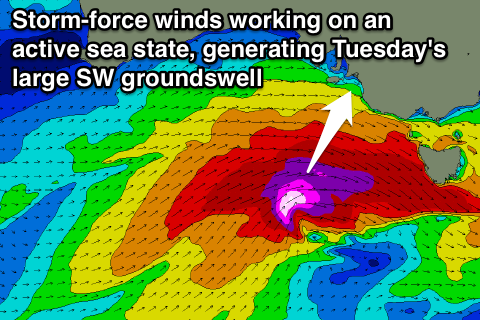 This weekend and next week (Jun 6 – Jun 12)
The South Coast is expected to offer great waves all weekend, while the Mid should be clean and fun tomorrow. A new long-range W/SW groundswell due later today should be replaced by a stronger pulse tomorrow, peaking later in the day before easing into Sunday.
This swell will be very inconsistent with long waits between the sets. Middleton should build to an infrequent 3ft to occasionally 4ft tomorrow afternoon with 4-6ft sets at Waits and Parsons under light to moderate N/NW winds. The Mid should be fun with NE tending N/NE winds and 2ft sets.
Come Sunday the swell should start to ease from 3ft+ at Middleton 4-5ft at Waits and 2ft on the Mid under fresh N/NW tending NW winds, keeping the South Coast clean and pumping.
Our stronger pulses of W/SW and SW groundswell into early next week are still on track, with Monday's initial swell being upgraded.
This is being generated by a broad and vigorous frontal system currently in the south-eastern Indian Ocean, generating a fetch of severe-gale W/SW winds. This front will push east and under the Bight during tomorrow will strengthening a touch further, with near storm-force W/SW winds being aimed towards us. The front should then pass under us Sunday night, with a large W/SW groundswell due to push up and into the coast through the day Monday.
Middleton should build from 3-4ft early, to 5-6ft by dark with Waits pulsing to 6-8ft. The Mid should kick strongly to 2-3ft+ with the large incoming tide during the afternoon but conditions will be poor with a fresh to strong W/NW breeze.
Into Tuesday, an even larger SW groundswell is due, generated by a secondary deepening frontal system projecting a fetch of severe-gale to storm-force W/SW winds over an already active sea state during Monday.
This swell is due to come in at 2-3ft+ again on the Mid Tuesday, with the South Coast offering much larger 6ft+ sets at Middleton with 8ft waves at exposed breaks and offshore reefs.
Winds will unfortunately be poor for the South Coast as the front generating the swell moves through, bringing a fresh to strong SW change around dawn, swinging more S/SE into the afternoon. This will create improving conditions on the Mid, with the late session looking fun and worth a surf.
Into Wednesday the swell will drop away steadily and further into the end of the week, only slowed a touch by some smaller reinforcing energy.
Conditions will improve for the South Coast again with light offshore N/NE winds Wednesday and Thursday mornings, with a fresher N'ly Friday. More on this Monday though. Have a great weekend!