Great Saturday, workable Sunday and Monday, fun Mid Wednesday
South Australian Forecast (issued Friday 12th December)
Best Days: Saturday down South, Sunday and Monday mornings for keen surfers down South, Wednesday morning both coasts
Recap
A solid and junky S/SE windswell kicked up across the South Coast yesterday but along with strong S/SE winds.
The S/SE windswell is easing today though from 3-4ft under more favourable E/NE winds creating improving conditions before the sea breeze started to kick in mid-morning. Conditions are now deteriorating and you're better off leaving it and surfing tomorrow
This weekend (Dec 13 - 14)
The window for clean waves tomorrow across the South Coast has improved even more from Wednesday's forecast with offshore N/NE winds expected to swing NW around midday and only give way to a shallow SW change during the mid-afternoon.
This should create excellent waves down South with a new SW groundswell filling in and peaking through the day to 3-4ft across Middleton and 4-5ft+ at Waits. The Mid will also be clean but tiny and in the 1ft range.
Sunday unfortunately looks average in the wake of Saturday afternoon's weak change with a lingering SW breeze, tending S/SE through the day. There'll still be plenty of good size down South for keen surfers, with Middleton probably the pick of the coast.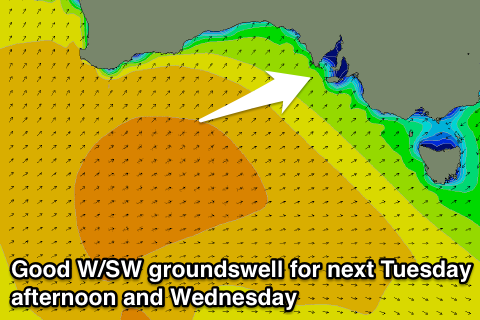 Next week onwards (December 15 onwards)
Monday looks to be a lay day with a smaller swell and light SE'ly across the South Coast. If you're in the area there'll be lumpy/glassy waves across Middleton and Goolwa, but it won't be worth the drive from Adelaide.
Our good pulses of W/SW groundswell through Tuesday and Wednesday are still on track, with a polar low to the south-west of WA being overtaken by a vigorous front pushing up through the Bight.
This should generate a moderate sized W/SW groundswell filling in Tuesday to 2ft on the Mid Coast and 3-4ft at Middleton with 4-5ft sets at Waits. Unfortunately winds will be fresh to strong from the W/NW tending SW creating poor conditions as the swell kicks into the afternoon.
Wednesday will be the pick as the swell holds a similar size and winds swing offshore from the E/SE across the South Coast and E/NE down South before sea breezes kick in.
Make the most of Wednesday morning though as a trough pushing across us during the evening will bring back poor onshore S/SW winds into Thursday which will strengthen into Friday.
Longer term there's nothing significant at all on the cards for next weekend and into the following week, so make the most of the coming windows of decent surf! Have a great weekend!