Average weekend, fun early in the week down South
South Australian Forecast (issued Friday 6th June)
Best Days: Sunday morning down South, Monday down South, Tuesday for keen surfers at exposed spots down South, Wednesday afternoon
Recap
Wednesday's late pulse of W/SW groundswell across both coasts held well into Thursday as the swell direction swung more SW and conditions improved considerably as winds tended variable down South and offshore on the Mid.
Clean glassy 2ft waves were on offer closer to Adelaide, while Middleton saw clean 3-4ft waves with larger surf out at Waits and Parsons.
Weak sea breezes added bumps on the Mid, while the South Coast remained relatively good into the evening as the onshore failed to really touch up the strong swell.
Today a further drop in size is being seen with tiny clean waves on the Mid, but the South Coast is still offering plenty of swell with morning offshores. A late and weak change is due across both coasts at some stage this afternoon as the swell continues to ease.
This weekend (Jun 7 - 8)
The start of the weekend still isn't looking too flash with this evening's change expected to strengthen early tomorrow morning and be blowing moderate to fresh from the S'th by day break tomorrow across the South Coast. The Mid Coast should see cleaner conditions with winds tending S/SE but the swell will be tiny and only in the 1-1.5ft range on the favourable parts of the tide.
Sunday is looking better down South but far from perfect with the arrival of a new SW groundswell from a frontal system that's currently tracking well south of us. This swell should come in at 3ft across Middleton with 4ft sets at Waits during the morning as E/NE winds create clean but peaky conditions. The Mid Coast should continue in the 1-1.5ft range on the favourable parts of the tide offering ideal conditions for beginners.
Next Monday onwards (Jun 9 onwards)
Monday will be much better down South as a ridge of high pressure moves in from the east and winds hold from the N/NE all day, favouring Waits and Parsons with the dropping swell from Sunday or Middleton-Goolwa for beginners.
Tuesday will be easily as clean but smaller and a little trickier with a fresh and gusty N/NE'ly.
As touched on in Wednesday's notes, we'll finally start to see a better winter frontal progression firing up through next week as a node of the Long Wave Trough strengthens across south-west WA and pushes east towards us.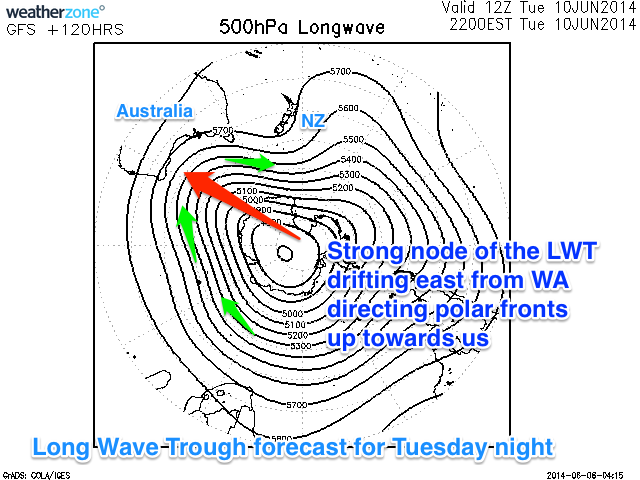 This will in effect steer and strengthen polar fronts up from the Heard Island region initially towards WA before focussing the attention further east and towards the Bight (illustrated right).
Initially medium sized levels of W/SW groundswell are due to start filling in from later Wednesday before clocking more SW in direction into next weekend and possibly becoming bigger.
It's a little too hard to nail down the sizes at this early stage along with the winds, but there looks to be some great waves on offer heading into the end of next week across both the Mid and South Coasts. Check back here on Monday for an update on this and in the meantime, have a great weekend!