Unseasonal upper blocking pattern for Hawaii, lots of trade-swell for other locations
Hawaii North Shore, Micronesia and PNG forecast by Craig Brokensha (issued on Tuesday 12th February)
This week and next (Feb 13 - 22)
Hawaii: The weather system linked to our large, stormy and damaging northerly swell events has weakened but we'll see one final intensification through tomorrow, with an elongated fetch of strong to gale-force NE winds expected to be aimed towards us.
This will produce a final large pulse of N/NE tending NE swell for Wednesday though with poor N/NE winds, easing slowly through the end of the week as winds persist out of the NE. Size wise we should see surf in the 8ft+ range across north swell magnets Wednesday, smaller thereafter.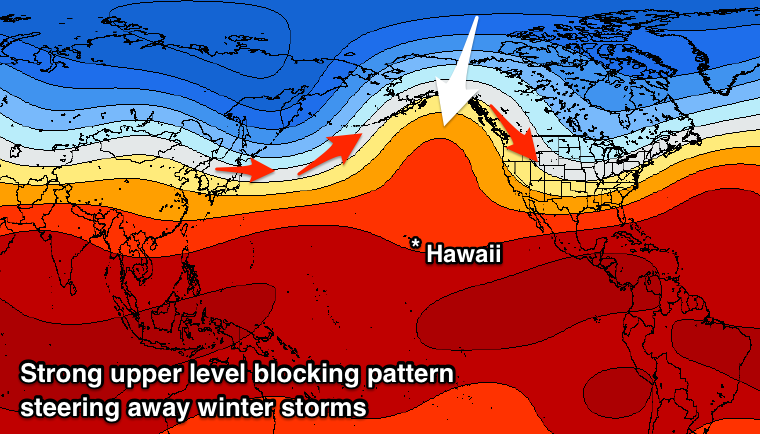 Unfortunately the synoptic setup linked to our poor run of surf and winds won't fully break down and may re-strengthen into early next week resulting in poor NE winds continuing across the North Shore, swinging even more onshore from the N-NW on Monday and persisting most of next week.
This is most unusual and the result of a large upper level blocking pattern, opposite to what we need for swell generating across the North Pacific.
It results in all the storm activity being deflected away from Hawaii and up towards the Aleutian Islands while also allowing surface lows to mature and stall in our swell window bringing those bad winds.
This will be the case over the coming fortnight at least with no considerable NW groundswells besides a long-period number this weekend.
This will be generated by a deep low forming off Japan, aiming a good but distant fetch of severe-gale to storm-force W/NW winds towards us mid-week before retracting towards the Aleutians.
The swell should arrive later Saturday and build to 6ft by dark, peaking Sunday morning to 6ft+ before easing.
North Shore Forecast Graph
North Shore WAMs
Micronesia: There's no significant N'ly groundswells due through the coming week owing to the blocking pattern across the North Pacific and we'll see moderate amounts of E/NE trade-swell wrapping into protected reefs out of the trades.
The low spawning off Japan should produce a fun pulse of N'ly groundswell for early next week, peaking through Monday to 3-5ft, easing off very slowly while dropping in period as a persistent fetch of weaker W/NW winds are maintained through our swell window off Japan on the weekend. Winds look fairly consistent with gusty NE trades, lighter and more offshore each morning.
Palikir Pass Forecast Graph
Palikir Pass WAMs
Papua New Guinea: There's plenty of swell on the cards for the coming period, as touched on last update, owing to an expansive and strong fetch of E/NE trades between Hawaii and us.
This trade-flow has eased temporarily and but we'll see the flow on effects of the fetch impacting our coast all this week before easing off into the weekend and early next week.
A re-strengthening of the trade-flow later this weekend and more so early next week, producing buidling levels of swell again later next week.
Winds are the main issue though with persistent tropical activity in our region resulting in poor NW winds over the coming week, tending a little more W/NW from the weekend though persisting all next week.
Size wise exposed breaks should see surf to 4-6ft all of this week, easing back from the weekend and more to the 4ft range early next week before climbing again late week.