Large N/NW groundswell to end the week
Hawaii North Shore, Micronesia and PNG forecast by Craig Brokensha (issued at Thursday 30th November)
Best Days: North Shore: Thursday, Friday, Saturday morning, Micronesia: protected spots tomorrow morning, PNG: protected spots out of the west wind the whole period
This week and next (Dec 1 – Dec 8)
Hawaii: A fun pulse of new N/NW groundswell this morning, providing decent sets across the North Shore.
The swell is in the ease, only to be replaced by a larger N/NW groundswell through tomorrow.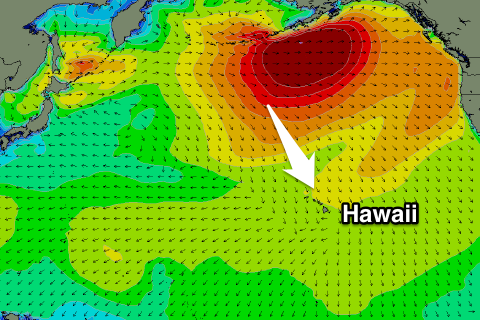 This swell and some reinforcing energy for Friday was generated by a strong and prolonged low forming off the Aleutian Islands, aiming persistent fetches of severe-gale W/NW winds towards us, even up to storm-force at some stages.
The low is still producing gale to severe-gale W'ly winds, aimed away from us and more towards Canada and the USA.
The groundswell is expected to fill in tomorrow, peaking into the late-afternoon to a large 10-12ft+ across magnets on the North Shore, easing back slowly from the 10ft range Friday morning, further into the weekend.
Winds are looking good for this swell with gusty E/NE trades tomorrow, strengthening through Friday, holding Saturday and then weakening a touch into Sunday.
Our next swell will be very inconsistent, generated by a small but intense low positioned off the Kamchatka Peninsula over the coming days. A good fetch of severe-gale W'ly winds are forecast, with the swell due to arrive Monday and build to an inconsistent 5-6ft through the afternoon, though with average NE winds, holding into Tuesday morning.
Once this swell starts to ease, we're expected to see some new close-range N/NW energy filling in, generated by a series of small embedded lows spinning around a much broader low sitting south of the Aleutian Islands.
The first pulse is expected Wednesday, with a secondary increase Thursday with funky winds as the fronts near our coast. We're likely to see surf in the large range, but check back Tuesday for an update on these swells.
North Shore Forecast Graph
North Shore WAMs
Micronesia: There's plenty of trade-swell on offer currently across the region, but winds are poor for spots picking up all the size.
The trade fetch is currently relaxing and we'll see the trade-swell back off accordingly, and winds tomorrow are expected to take a slight dip to the E/SE, favouring selected reef passes capturing the trade energy.
The trades are due to redevelop north of us through the weekend and with this we'll see the swell building again through Sunday, peaking Monday and then easing just a touch but persisting all week.
Winds will swing back to the E/NE, creating poor conditions at locations seeing all the size again.
There'll be no significant N'ly swell to capitalise on unfortunately.
Palikir Pass Forecast Graph
Palikir Pass WAMs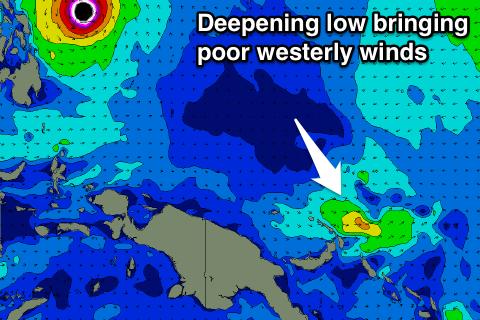 Papua New Guinea: The trade-swell should be building out across our region this afternoon, reaching 4-5ft through tomorrow before tailing off slowly from Saturday.
Unfortunately the small tropical depression linked to average W'ly winds will deepen over the coming days and likely end up as a typhoon.
This will limit surfing options with stronger W/NW winds expected to form through next week. This will also produce a local W/NW windswell, overpowering the NE trade-swell. Therefore you'll have to thin outside the square to find a decent wave over the coming period.