Moderate to large swells for the coming period
Hawaii North Shore forecast by Craig Brokensha (issued Tuesday 5th January)
Best Days: Tuesday, Wednesday, Thursday morning, Friday morning, Sunday onwards
This week and next week (Jan 5 - 15)
An XL swell has filled in today across the North Shore with large 15-18ft surf seen across most breaks, with larger bombs at offshore reefs and Peahi, as shown in the shot below.
The swell came in a little below Thursday's expectations as the 'bombing low' formed a touch later and further east than initially forecast, resulting in less size across Hawaii.
In saying this winds were lighter and more manageable across exposed breaks offering great conditions for paddle surfers.
The swell peaked at the 51101 buoy at 2am this morning Hawaii time, and with around a 10 hour travel time, a peak should have been seen around midday (confirmed on the Waimea 51201 buoy), with a steady drop seen since.
We'll see the swell continue to drop away through tomorrow from around the 10-12ft+ range across exposed breaks, down further into early Wednesday to 6ft+ or so.
A fresh pulse of N/NW groundswell is due to fill in and peak through the day though, generated today by a strong low to our north-northwest. A fetch of severe-gale W/NW winds were produced, with a kick back to 8-10ft+ expected, easing from 6ft to possibly 8ft Thursday morning.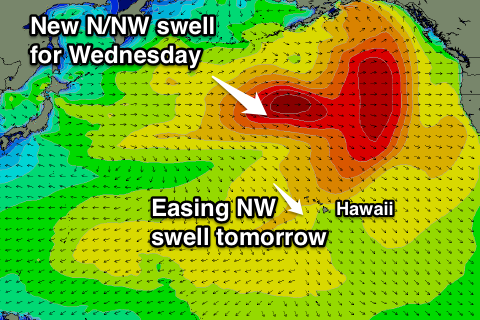 Conditions should be clean the coming days with moderate E/NE trades, becoming more variable and sea breezey into Thursday and Friday.
Some new mid-period and moderate to large sized NW groundswell is due to fill in through Friday, peaking Saturday.
This will be produced by a patchy but relatively strong front pushing closer to the Hawaiian Islands over the coming days, increasing the consistency of the swell.
A kick to the 8-10ft range is due later Friday, easing from a similar if not slightly bigger size Saturday morning. Funky and poor winds are likely Saturday though with a W'ly tending fresh NW wind.
A less favourably aligned but stronger fetch of severe-gale W/SW winds swinging in from the west later this week should produce a larger NW groundswell for Sunday, peaking through the morning in the 12ft+ range.
Light E/NE trades are due to redevelop into Sunday before tending variable again early next week as the swell drops away.
Longer term further pulses of NW groundswell in the 8-10ft range are due through the rest of next week, with indications of an intense storm forming right on Hawaii's doorstep later next week, generating a significant groundswell event. Have a check back here on Thursday for the latest on this though.