Prolonged southerly swell
Eastern Tasmanian Surf Forecast by Craig Brokensha (issued Monday December 12th)
Best Days: Protected spots from Thursday
Features of the Forecast (tl;dr)
Tiny over the coming days
Building S windswell Wed PM with strong SW tending S winds
Large S/SE-S swell for Thu/Fri with strong S/SW tending S winds
Easing S/SE tending SE swell Sat/Sun with S/SE-S winds Sat, S/SW tending SE winds Sun
Easing surf Mon with S/SW tending SE winds
Recap
Great waves on Saturday with a moderate sized SE swell and favourable winds in the morning, smaller but still fun yesterday, cleanest through the morning and in northern corners.
Today there's a small mix of N/NE windswell and easing SE swell but only to 2ft and with a bit of weather on the coast.
This week and weekend (Dec 13 - 18)
The coming two days will become tiny to flat, with no major swell generating systems due to enter our swell window until later Wednesday.
This will be linked to another trough pushing across us, bringing a strong S'ly change and weak increase in windswell later in the Wednesday.
The trough is forecast to deepen into a significant low off our coast during Thursday, aiming a fetch of S/SE gales in our southern and south-eastern swell windows, producing a large mix of swells for Thursday/Friday.
Unlike last week, this low will remain to our south-east through the weekend while slowly weakening which will prolong the longevity of the swell but keep persistent S'ly winds blowing across the coast. Not ideal.
Looking at the size and we should see south facing beaches coming in at 6ft+ through Thursday, holding Friday morning and then slowly easing into the weekend.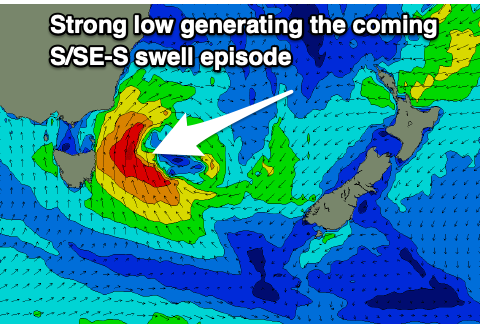 There'll likely be the odd bigger 8ft set at times and unfortunately strong S/SW tending S winds will limit the cleanest waves to protected southern corners which will be much smaller in size.
S-S/SE winds are due on Saturday with the low starting to drift slowly north-east, opening us up to its south-western flank.
These S/SW-S/SE winds will persist Sunday and a secondary trough sliding up from the south through early next week looks to keep winds from this unfavourable direction.
Size wise, Saturday should see easing 4-6ft sets across northern corners, 4-5ft on Sunday and then down from 3-4ft Monday.
Again, southern corners will be cleanest but much, much smaller.
Check back here on Wednesday for any change to the timing of the swell pulses and local winds.