Tuesday, 6 June 2017
Large swells for the period
Bali and Mentawais forecast​​​​​​ by Craig Brokensha (issued Tuesday 6th June)
Best Days: Every day over the coming period across both regions (more protected spots from Monday in the Ments)
This week and next (Jun 7 – 16)
Bali: An oversized SW groundswell filled in across the islands yesterday, providing large pumping surf for chargers on the various reefs handling the size.
This swell was generated by a very impressive storm in the Indian Ocean late last week and is now easing across the region.
We'll see the swell continuing to ease over the coming two days ahead of a large new SW groundswell this Friday.
This swell has and is continuing to be generated by a vigorous polar low that formed in the Heard Island region, producing a fetch of severe-gale to storm-force W/SW winds while projecting east-northeast towards Western Australia.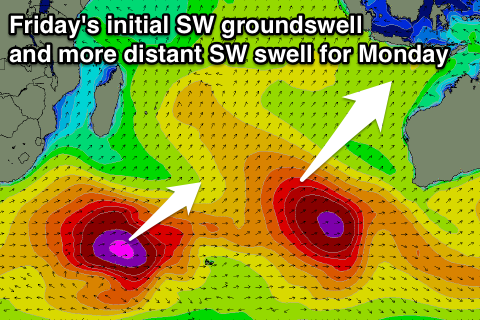 The swell is due to arrive through Friday, building to a solid 8ft across exposed breaks into the afternoon before easing from the 6-8ft range Saturday morning.
A less consistent and smaller SW groundswell is due to arrive later Sunday and build through Monday. This swell will be noticeably less consistent than Friday's, with it being generated further away by a strong storm south-east of South Africa.
Inconsistent sets to 6ft are due into Monday afternoon, if not for the odd bigger sneaky one, while the easing trend will be slow as some mid-period reinforcing energy fills in from weak fronts moving through the Indian Ocean.
Later in the week we're looking at another oversized groundswell event, linked to a very board and intense polar low forming just west of Heard Island this weekend. Storm to hurricane-force winds are forecast, flanked by severe-gales, resulting in a long-period and oversized S/SW groundswell event Thursday/Friday next week. Check back here Thursday for more details on the size and timing of this swell though.
Coming back to the winds due over the coming period and fresh and gusty E/SE trades are due to kick in from tomorrow (light and variable early each morning) with weaker trades into next week.
16 day Bali Forecast Graph
16 day East Java Forecast Graph
16 day Sumbawa Forecast Graph
Ments: Our current large and powerful groundswell will ease as per Bali over the coming days, but wave heights aren't likely to drop below 5ft on the sets ahead of Friday's new S/SW groundswell.
This swell should see 6-8ft sets across exposed breaks and variable winds tending S/SE will favour some spots over others.
A drop in size is due Saturday and Sunday morning ahead of the new inconsistent SW groundswell. This swell should build through the day, reaching 5-6ft later in the day ahead of a peak Monday to 6ft to occasionally 8ft (bigger than Bali).
Winds may freshen a little from the S/SE with this swell leaving protected spots with the best conditions.
We then look ahead to the large and powerful S/SW groundswell due later next week, but more on this Thursday.
16 day Mentawai forecast graph
16 day Nias forecast graph
16 day South Sumatra forecast graph