2020 Christmas outlook
Tuesday, 22 December 2020
It wouldn't be 2020 without one more curve ball thrown our way right on the eve of Christmas. With a fresh cluster of COVID cases emanating from the Northern Beaches, a lot of holiday plans have been thrown out the window, but a positive is that for those in lockdown there'll continue to be surf.
We've already had over a week of easterly swell and it'll be topped up by less-consistent and tricky pulses of distant east-northeast cyclone swell, originating from Severe Tropical Cyclone Yasa.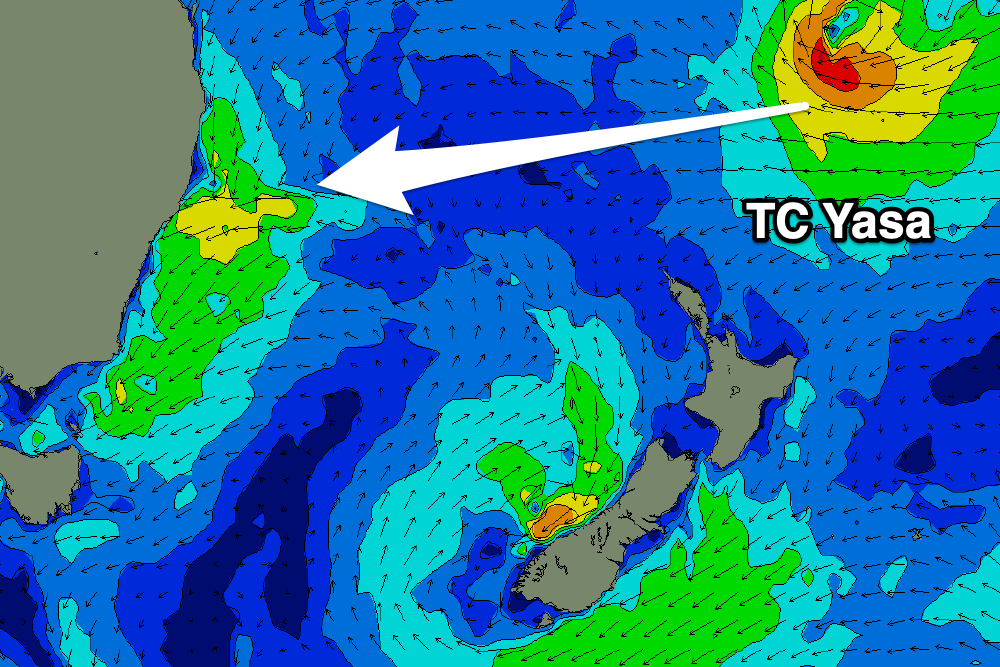 Yasa weakened to below cyclone strength today, but it's been aiming a good, sustained fetch of strong to gale-force winds towards the East Coast since late last week. This will generate varying pulses of E/NE groundswell, ebbing and pulsing between 3-5ft, with one final pulse due on Christmas Day. The Christmas pulse was generated last night and early this morning while Yasa was still a Category 1 cyclone, and we should see infrequent sets to 4ft from south-east Queensland to southern NSW, easing slowly into the afternoon, down further Boxing Day.
Conditions look favourable for most locations in south-east Queensland and northern NSW with variable tending light offshore winds ahead of afternoon E/SE sea breezes. Southern NSW isn't as favourable with a surface trough due to bring a a fresh to strong S-SE change at dawn, limiting surfing options.
The trough looks to weaken into Boxing Day, leaving variable morning winds across most locations, although the Hunter and lower Mid North Coast look to be onshore from the SE.
Moving to the southern states, and overall the surf prospects for Christmas Day look average, with cleaner, fun surf due Boxing Day morning.
All locations are due to see a small increase in mid-period swell Thursday, peaking Christmas Eve though S/SE winds will create average conditions in Victoria, slightly better across the South Australian South Coast as winds tend E-E/NE. Middleton should be a peaky 2-3ft, similar in size though bumpy on the Surf Coast and 4ft+ on the Mornington Peninsula.
Saturday looks much better across both South Australian and Victorian exposed locations with a variable offshore wind, though smaller, easing swell.
Moving down to Tassie, the South Arm should see 2ft sets Christmas Day with the new, mid-period SW swell but onshore W/SW-SW winds will create poor conditions. Saturday is the pick with offshore winds as the swell eases.
Over in the west, there's a slight kick in swell due Christmas Day, but similar to the states to the east, it'll be weak, mid-period S/SW energy along with strong S/SE winds. Margaret River should offer 3-4ft sets, tiny and to 1-1.5ft across Perth and Mandurah. The swell will ease Saturday with similar winds, limiting surfing options for a quality wave.
Looking into next week, there are no standout days anywhere across the country, but lets hope by then the current outbreak is under control.
Merry Christmas from the Swellnet team!