Western and South Australia's stellar run of swell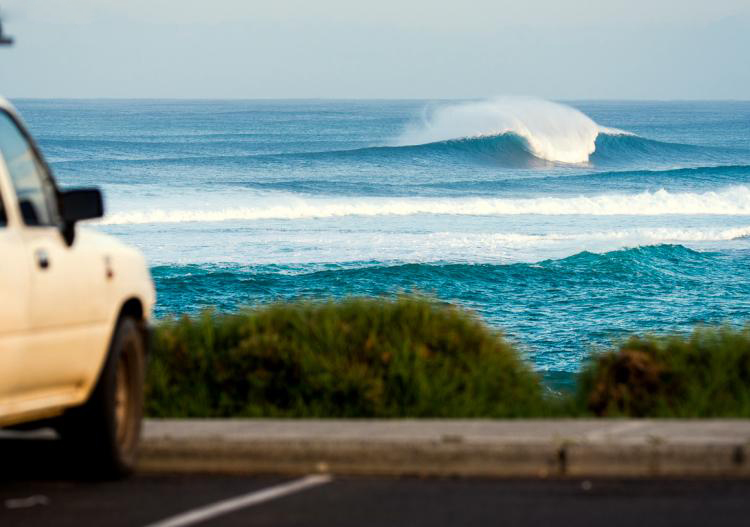 Western Australia and in particular the Margaret River region have just come off an excellent run of clean surf, with months of offshores and consecutive large swell events. The great conditions began around the time of the Margaret River Pro and have persisted since, seldom letting up.
Local southwest photographer Mick Gullan shares the current sentiments "Winter is so different over here this year. I think everyone is loving it whether they are down south or up north!"
And while the southern states usually receive lots of swell during autumn and winter, persistent offshore winds and fine weather are far more rare. And it's this, an abundance of swell and great conditions that have been the outlier.
Similar conditions have been seen across South Australia and Victoria and while it's a blessing for surfers, farmers are cursing the fine weather with most locations seeing well below average rainfall for this time of year.
(Photo above and top by Peter Jovic)
So what's behind this amazing run of waves?
Two words: High pressure.
Over the last few months we've seen a persistent positive SAM event. The Southern Annular Mode (SAM) is an index showing how far north or south the polar westerlies (storm track) is from normal.
When SAM is positive the polar westerlies shift further south away from us, closer to Antarctica which in turn results in higher pressure across Australian latitudes.
The opposite occurs with a negative SAM event with the polar westerlies shifting further north and closer to Australia.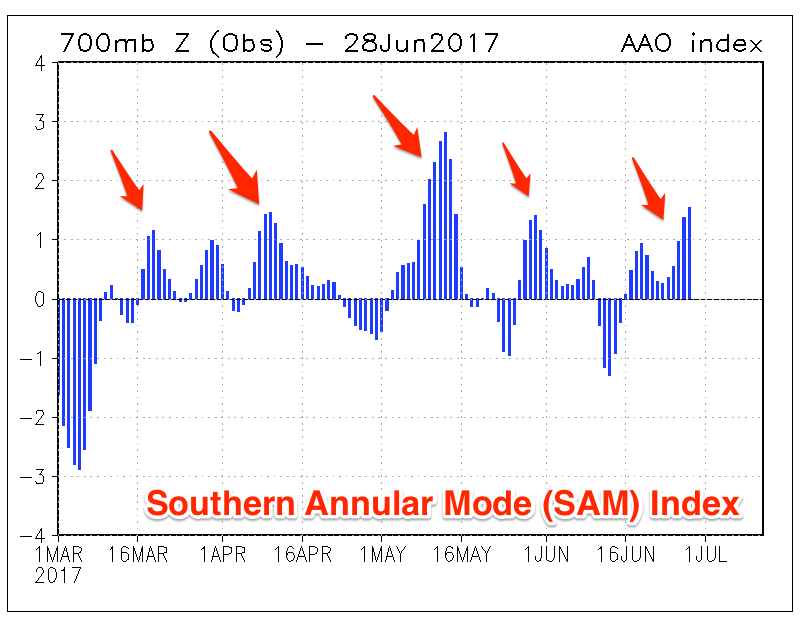 You can see in the above chart that the SAM has been generally positive since mid-March, becoming quite strong through the first half of May.
As talked about in an article we published last week, the Bureau of Meteorology notes that parts of Australia have seen average pressure readings of 1039hPa for the start of winter, way above the average of 1013 for this time of year, and are labelling it a one-in-ten-year event.
A great visualisation of the higher than normal pressure across the country is shown below, with this map showing the difference in pressure through April compared to the climatic mean. What we can see across Western and Southern Australia is that the pressure was 2-4hPa above the long term average for April.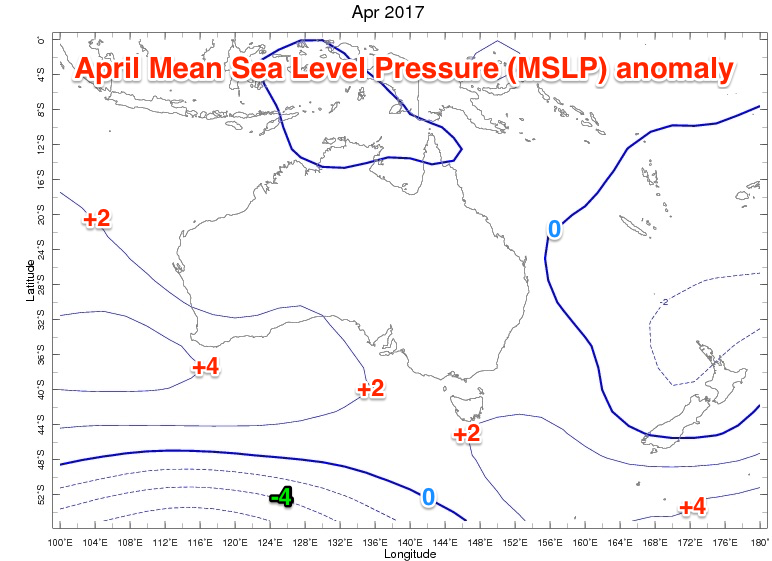 When the highs are positioned in such a way across the southern part of the country, offshore winds dominate, while the Southern Ocean storms continue to roar, combining to create large clean pumping swells. In short, we get the southwest swells but not the southwesterly winds.
We're still in a positive SAM event and forecasts are for it to remain positive into early July, but this won't prevent a couple of strong polar fronts breaking through and impacting Western and Southern Australia along with Victoria over the coming fortnight, bringing true wintery conditions.