Rip Curl Pro 2016 - Latest Update
After some great days of competition over the weekend, we've got a few lay days ahead.
Onshore winds and an easing swell have resulted in competition being called off for today.
Tomorrow morning may be used as a half day to get through some heats, with easing 2-3ft sets and a morning W'ly breeze. However, this is unlikely with better days to come.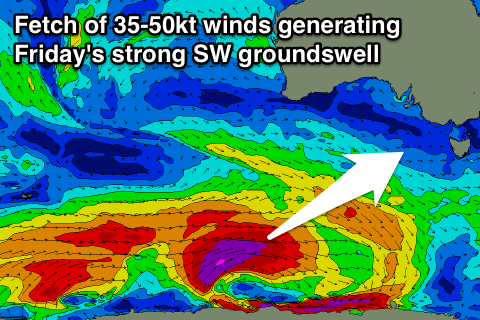 Thursday will be clean all day but with small surf, around 2ft through the morning reaching 3ft on the sets into the afternoon with a mix of new swells.
Of much greater interest is the swell due Friday. Currently a very strong and intense polar low is generating a fetch of severe-gale to storm-force W/SW winds through the Surf Coast's south-western swell window.
A moderate-sized long-period SW groundswell will result, arriving later Thursday, with a peak due Friday morning to a strong but slightly inconsistent 3-5ft. Conditions should be good to excellent with a morning N/NW breeze due to swing more NW through the day. With this there may be some slight bump up the face early, disappearing through the day as winds swing more NW.
Into the weekend we've got a mix of strong SW and W/SW groundswell due to build though Saturday and then hold Sunday morning. These will be related to a flurry of strong frontal activity under the country during the coming days, being steered towards Victoria by the Long Wave Trough.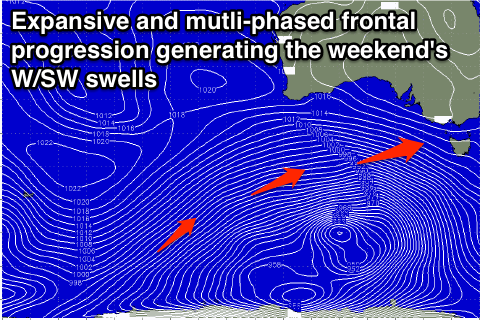 With back to back frontal systems piggy-backing over each other we'll see a large open ocean swell created, with dual, moderate to large W/SW groundswell pulses for Saturday afternoon and Sunday.
Saturday morning should start around 3-5ft, before building to a larger 4-6ft into the mid-late afternoon, easing back slowly from a similar size Sunday morning.
Conditions on Saturday won't be ideal with an early W'ly breeze due to give into a fresh SW change mid-morning, while Sunday is looking great with a light morning offshore wind from the NW ahead of light afternoon sea breezes.
A moderate sized reinforcing SW swell is on the cards Monday with favourable offshore winds, so there's plenty of quality days for the event organisers to pick the eyes out over the coming week.