Easter 2016 Forecast
As far as swell goes, most of the country is looking good this Easter. There'll bea mix of easing and new swells on the East Coast, a proper keg hunt down in Vicco and South Oz, while Taswegians won't have to look too hard either. West Oz folk, however, may as well gorge 'emselves on chocolate, espeically those in Perth and surrounds.
Here's the national Easter forecast:
East Coast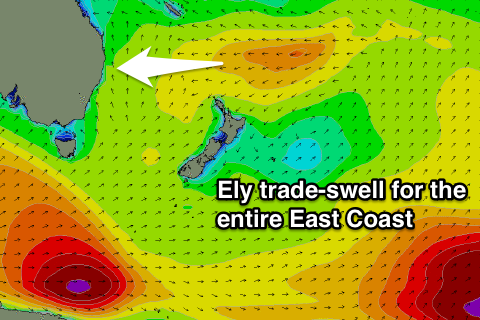 Across the East Coast a moderate-sized easterly trade-swell that's due to peak Thursday will still provide plenty of size into Friday morning, easing slowly throughout the entire weekend.
From the Gold Coast through to the southern NSW coast, open beaches should ease back slowly from 3-4ft+ Friday morning, not dropping below and infrequent 2ft to occasionally 3ft through Sunday and Monday.
Also in the mix through Sunday afternoon and more so Monday across the southern NSW coast should be two good pulses of S'ly groundswell, peaking around the 3-4ft range at south facing beaches.
This groundswell will impact the North Coast most noticeably into Monday afternoon, reaching 3ft+.
Conditions are due to be clean each morning across most of the East Coast with light offshore winds ahead of afternoon sea breezes.
Victoria
Victoria and South Australia will receive multiple pulses of SW groundswell energy (S/SW in South Oz) from back to back frontal activity through the Southern Ocean.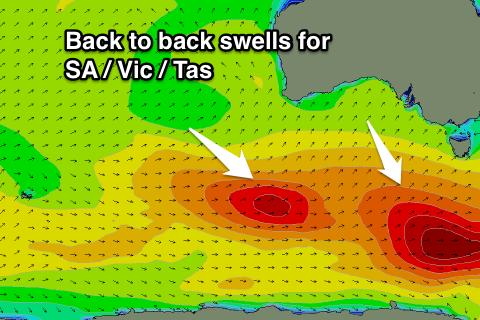 In Victoria an initial pulse of SW groundswell Thursday is due to ease back through Friday morning with light variable winds, creating good conditions across both regions. A stronger building SW groundswell is expected Saturday, reaching 4-5ft on the Surf Coast into the afternoon and 6-8ft on the Mornington Peninsula.

The largest pulse is now due overnight, easing slowly Sunday from 4-5ft+ and 6-8ft respectively Sunday morning.
Morning NW winds will favour the Surf Coast Saturday, while Sunday looks average with onshore S/SE breezes. Monday will be the pick again across the Surf Coast as the surf eases from 3-4ft with morning offshores.
South Australia
South Australia should see similar timings and trends in swell to Victoria, though the swell will be more S/SW. An initial pulse of S/SW groundswell on Thursday is due to ease back through Friday morning. A stronger building S/SW groundswell is expected Saturday, the largest pulse due overnight and peaking Sunday morning. The Middleton stretch should offer good 4-5ft sets, with larger bombs out at Waits and Parsons. The Mid Coast however won't really benefit with tiny surf to 1-1.5ft at best.
Sounds good, however, fresh onshore winds on Friday will create poor conditions. Lighter onshore winds Saturday should produce workable waves, while Sunday and Monday are the pick with morning E/NE breezes and good amounts of swell.
Tasmania
Down in Tasmania, the East Coast will benefit mainly from the E/NE swell generated off New Zealand's West Coast, with a peak through Friday to 3-4ft due across open beaches, easing back steadily through the weekend. Besides this a refracted S'ly groundswell should keep south facing beaches active Sunday under light winds.
Clifton will receive various groundswell pulses from the SW, smallest Friday and Monday around a clean 1-2ft, but the largest surf should be seen later Saturday and Sunday morning, peaking at 3-4ft. Conditions will be poor Saturday afternoon though in the wake of a strong onshore change, with excellent conditions Sunday morning.
Western Australia
Moving over to Western Australia and there's no significant swell due for Perth and Surrounds, with tiny sets in the 1ft+ range at best.
Further south down around Margaret River, clean conditions are due Friday, Saturday and possibly Sunday mornings, but there'll be no significant swell. Background S/SW groundswell energy should keep exposed breaks active around 3-4ft, but that's about it.
So in essence the Surf Coast and the East Coast are the pick of the coming Easter Long Weekend. Safe travels and have a great holiday!