Swell to the west, swell to the east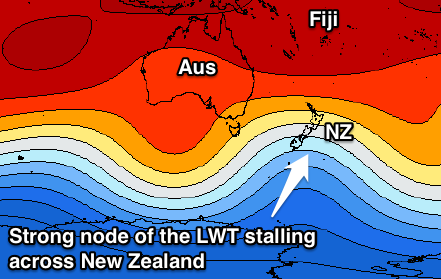 Autumn is really kicking into gear around Australia with both the east and west coasts due to be hit by large swells over the coming week.
An intense Tasman Low is currently producing large waves across Southern NSW but it'll be overshadowed by a better quality, long-period southerly groundswell due next week. The swell will push up from deep in the Southern Ocean, past the East Coast early next week, en route to Fiji Thursday.
It was just over a month ago that a large swell hit Cloudbreak, just before Severe Tropical Cyclone Pam glanced the islands while devastating Vanuatu. Laura Enever, Alex Gray and Josh Ku chased the swell and scored great waves with hardly a crowd as most of the pros were tied up at the Quiksilver Pro.
Next week's swell will be of similar origins.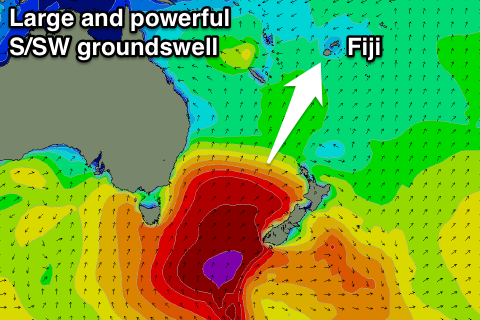 The source of the swell will be a wide-spanning and vigorous polar low developing under Tasmania. The catalyst for this explosive polar low will be a strengthening node (peak) of the Long Wave Trough moving slowly across the southern Tasman Sea, stalling over New Zealand this weekend.
This will direct a fetch of severe-gale S/SW winds from below Tasmania up through the southern Tasman Sea and across New Zealand through the weekend.
A large and powerful southerly groundswell will be generated for Tasmania and the Southern NSW coast (in the 8ft range at south facing breaks), before pushing onwards to Fiji and namely Cloudbreak on Thursday. 8-10ft waves are expected with bigger bomb sets in Fiji but local winds look to be the fly in the ointment. A tropical low and possible tropical cyclone is forecast to drift south-east from Vanuatu, moving to the south of Fiji as the swell arrives producing unfavourable and fresh north-east winds. There's still movement surrounding the local winds and this all depends on the movement of the tropical low.
Only a day earlier and on the other side of the Australian continent a large, powerful south-west groundswell is due to fill in for the opening day of the Margaret River Drug Aware Pro.
This will be linked to another (seperate) node of the LWT moving east through the southern Indian Ocean over the weekend, directing a vigorous polar low from south-east of South Africa, all the way over to Western Australia.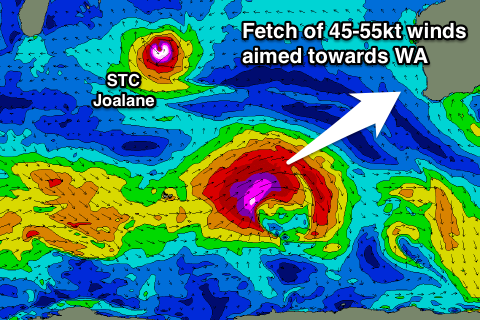 Winds within this low are forecast to reach the storm-force range, producing a very large, long-period SW groundswell, peaking at 10-12ft in Margaret River with larger sets likely at deep water reefs. The swell will then push on to South Australia Thursday and Victoria Friday.
Conditions look excellent for Western Australia with straight offshore easterly winds Wednesday ahead of an afternoon sea breeze.
We're also likely to see a secondary large but slightly smaller SW groundswell for Friday from a secondary polar low, but we'll continue to keep a close eye on this.
In any case there'll be no lack of swell for the Drug Aware Pro as the westerly storm track finally kicks into gear. //CRAIG BROKENSHA