Large swell, limited options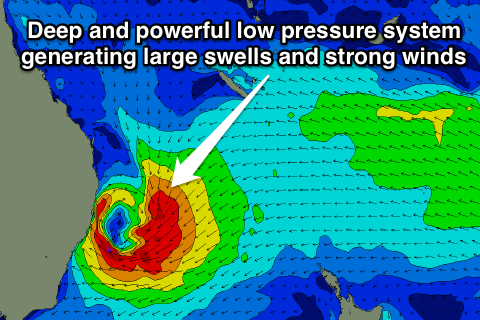 There's a lot of buzz around the upcoming swell across the East Coast and the excitement is understandable. For Queensland and northern NSW this will potentially be the largest swell event of the last six months. But – and it's a very big BUT - surfing options will be severely limited by local winds.
We're into the second week of an extended easterly trade-swell event, and the scenario we've all been waiting for is set to take place later this week. That being a deepening tropical depression slipping south into the trade-flow, squeezing a strong and stationary high pressure system sitting in the Tasman Sea. The effect will be a supercharging of the current trade swell.
The ideal scenario would be to have this development occurring towards New Zealand, which would result in an organised uniform easterly groundswell impacting everywhere from Noosa to Eden.
Unfortunately the depression will form directly off the East Coast which will result in large, chaotic swell, and strong onshore local winds – more so in Queensland and northern NSW. It's a bank buster by any other name.
At present the swell should play out like this: The South East Queensland and Northern NSW coasts will see a steady uptick in easterly trade-swell from today, becoming larger through tomorrow and further into Thursday as a broad fetch of strengthening easterly winds are projected westward towards the Australian mainland.
Now, throw in the aforementioned tropical depression drifting south into warmer than normal sea surface temperatures (as discussed in this article), and we've got a recipe for large and dangerous surf.
The Quiksilver Pro Snapper Rocks is due to start on February 28th and the talk is already how the bank will fare under this swell. It's currently in good shape, will it survive the onslaught? Swellnet is equally curious how the WSL's two-storey contest structure will hold against the local winds.
The one possible saving grace is that the tropical depression is forecast to slip quickly south resulting in only two days of large surf - Thursday and Friday - before wave heights tail off into the weekend.
Further south, the NSW coast however is likely to see large surf, perhaps around the 10ft range, with favourable offshore south-west winds north of the low's axis and onshore SE winds to the south. This will limit options to protected points and reefs scattered along NSW coast.
Where the lows axis sits is the big question and at this stage it looks to be somewhere off the Mid North Coast but there's still a lot of room for movement regarding the positioning and strength of this dynamic system.
So while there'll be no lack of surf over this coming period, you'll have your work cut out for you trying to find somewhere handling the size and out of the wind. //CRAIG BROKENSHA
Snapper Rocks scaffolding shot by Shayne Nienaber