Swell abounds for Easter 2014
It has to be said, if you don't score decent waves this Easter, you're not trying hard enough!
The Australian continent will be bathed in swell ranging from the large and dangerous in Western and Southern Australia, to the still solid but more sublime on the East Coast.
Friday will probably be outside the limit of most surfers across exposed spots along the Western Australian coast as the biggest swell this year impacts the state. The polar storm responsible for the swell is generating winds in the 35-45kt range that will persist for longer than three days while projecting itself up towards the Australian continent. The resultant swell should peak at 12-15 foot across the Margaret River region, with even larger waves expected at offshore bommies.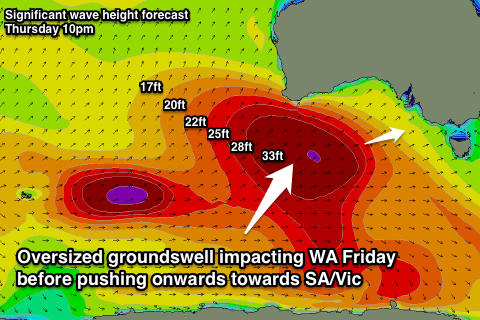 Moderate offshore winds will create excellent conditions so even if you don't get out on Friday it will be amazing viewing from the safety of a headland. Afternoon southerly sea breezes will focus attention into the more sheltered and manageable bays and points. Perth is looking good with less size to 3-4 foot, but you'll have to find a bank handling the size.
The rest of the weekend will see more manageable amounts of swell with morning offshore SE winds.
Western Australia's large swell will make its way across to South Australia and Victoria on Saturday. In South Australia variable winds should assist in providing good waves across both the Mid and South Coasts.
The Rip Curl Pro at Bells Beach should see good surf with 6 foot+ of groundswell filling in during Saturday. Winds should be favourable from the west early in the morning, but a swing to onshores before lunch will spoil the peak of the swell. Sunday is looking much better with a dropping swell and morning offshore.
Other Victorian exposed locations across the state will be too large and onshore Saturday, so focus your attention to the Surf Coast throughout the first half of the long weekend with that predominant westerly airstream. Monday should offer more options across the state though as straighter N/NW winds develop ahead of an approaching cold front.
The South Arm in Tassie will see some of this large westerly swell sneaking in on Saturday but early onshore winds look to spoil the party. Look out for a late swing to the W/NW opening up a few protected locations for business. Sunday and Monday will offer much better conditions though with a touch less size around 2ft.
The East Coast from Byron Bay south should still be under the effects of the Tasman Low that's been sitting in the Tasman Sea since the weekend. Moderate levels of SE groundswell will continue across exposed spots with favourable offshore winds, but come Saturday a much stronger pulse of E/SE groundswell should arrive.
This will be produced by one final blast of the Tasman Low during Thursday, with a phenomenal fetch of 35-60kt winds forecast to be produced out of New Zealand's Cook Strait (the passage between New Zealand's North and South Islands) as ex-Tropical Cyclone Ita is absorbed into the storm.
The Southern NSW Coast should see a peak in size through Saturday morning to 5-6 foot across exposed beaches with larger 8ft sets at offshore reefs (4-6 foot across Tassie's East Coast), with a touch less size on the Northern NSW Coast. The Gold and Sunny Coasts aren't expected to see much above 3 foot on the beaches, with larger and more powerful surf at exposed spots.
The E/SE swell will fade rapidly through Sunday but a solid new Southerly swell is expected across south facing beaches from Byron south under favourable offshore winds, topping off a great weekend of surf.
So there you have it, a jam packed Easter Long Weekend of waves. Just remember to stay within your limits if you plan on tackling some of the larger stuff and show some extra patience with the holiday crowds. //CRAIG BROKENSHA