Tropical Cyclone Dylan blowin' in the wind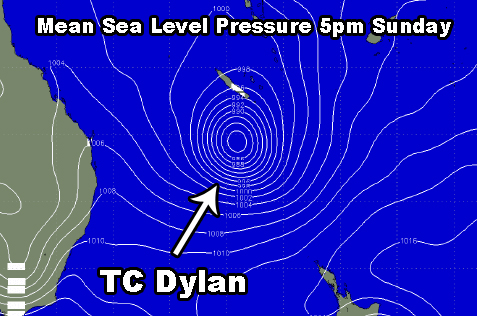 After one of the slowest starts to the Gold Coast surf season in recent memory, the first tropical cyclone for the year is expected to develop over the coming days in the Coral Sea, near the Solomon Islands. Tropical Cyclone Dylan will certainly provide some long overdue colour to the Queensland WAMs.
The change in outlook is related to an active monsoon trough across northern Australia, along with the help of a weak Madden Julian Oscillation signal over the Western South Pacific, helping spawn a tropical cyclone in the Coral Sea.
Tropical Cyclone Dylan is forecast to form in the Vanuatu region later this week and slowly drift south into a broad and established easterly trade-flow.The trade-flow itself is expected to produce 3ft+ surf across SE Qld and Northern NSW later this week, but as Dylan drifts south into this active synoptic setup, winds should strengthen and reach the gale to severe-gale-force range on top of an already active sea state.
The one factor working against the formation of a large and prolonged easterly swell event is the fact that as Dylan drifts south, the supporting ridge to its south will weaken resulting in a split fetch of E/NE winds feeding into the cyclone on its eastern flank and SE winds on its western flank.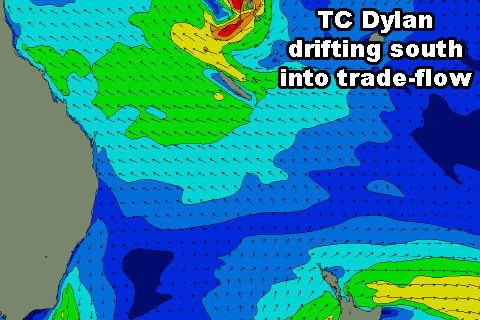 Ideally we want an uninterrupted fetch of E'ly winds spread out nicely below the tropical system.
In saying this a strong pulse of groundswell is still expected across SE Qld and Northern NSW, peaking on Monday in the 4-5ft+ range. The rapid southward movement of TC Dylan towards New Zealand during Sunday and Monday though, will result in a short-lived one-day swell event that will back off rapidly into Tuesday and further Wednesday.
Unfortunately from Seal Rocks south, not much size is expected, with Sydney beaches only likely to see very inconsistent 2-3ft sets on Tuesday.
While the first cyclone swell of the season is expected to be quite short-lived, Dylan may pave the path for a secondary stronger tropical system less than a week later. We'll keep a close eye on this and provide running updates in the commentary below.
There is a chance this cyclone may be named June by the Fiji Meteorological Service if it forms east of 160E, but it's too hard to call at this stage.