Understanding our new forecasting system
The new Swellnet website contains a brand new forecasting system which we've been developing over many years. As a result we are changing the way we deliver forecasting information to you.
One of the exclusive benefits of this system is the ability to visualise how varying swell directions affect your region of the coast.

Regions known for multiple swell directions (ie the East Coast of Australia) show a large range in size depending on which direction the swell is coming from. Take for example the Sydney region.

During southerly swells Bondi, Curl Curl and other 'south facing' beaches will pick up a lot more size compared to Manly which faces east. During north-east swell events the opposite occurs with Manly and Maroubra picking up the most size, while Curl Curl and Bondi are much smaller.

Our new forecasting system now knows how to differentiate between open beaches and south or north-east facing beaches, and this is represented by the orange bar on the graph below.


The tooltip above is highlighting the forecast for Tuesday 6pm and what we can see is that there is 1-2ft of E/NE swell breaking at open beaches, but north-east facing locations should be picking up more size to 2ft.

This first example isn't the best as there isn't much disparity in the size from the E/NE swell, but if we look into the end of the week on Friday, we can see a new southerly swell is forecast across the region.
The image below shows that open beaches should peak at 2-3ft during the morning, while south facing beaches should be much larger and up to 3-5ft.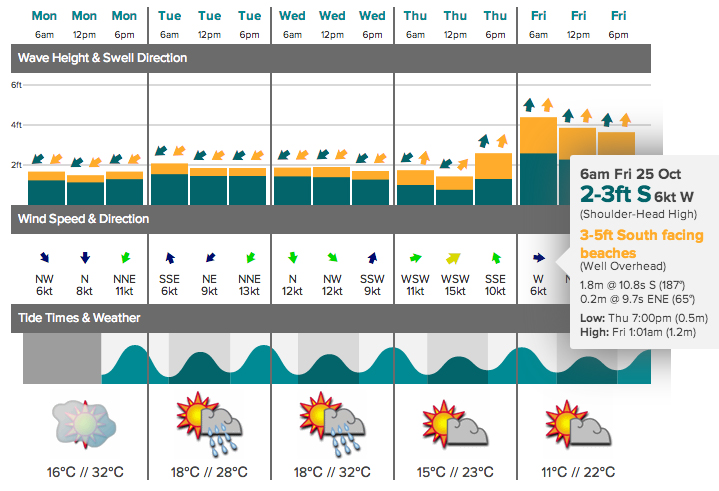 We will continue to refine and improve this aspect of the forecasting system over the coming weeks and months.

Additionally we'll provide subsequent chapters explaining the other features new to the site.