North Coast shark activity: A new theory
I am going to put myself out there to offer an explanation as to why I think we have seen recent attacks and an increase in shark activity of late in the Ballina Region, that is not simply "The Great White Shark is protected and thus there is more of them and therefore more attacks".
I think a lot of you would agree there is more at play than just a potential increase in shark numbers when you have so many negative interactions close together in time and location. I welcome your opinions and discussion.
But in short: my advice is to be extremely cautious on your choice to surf in Northern NSW right now.
We are approaching new moon on the 15th and I would advise to avoid surfing around the full moon on the 30th altogether. Here is a picture I made of the moon phase on days of negative human/shark interactions over the last 10 months around Ballina.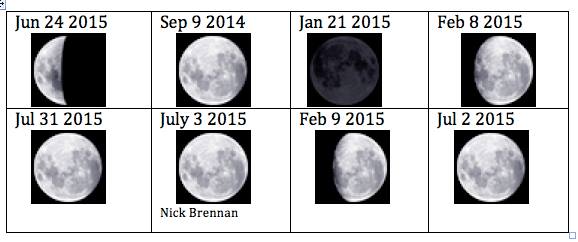 My explanation for what has been happening around Ballina is based around the "hungry shark" theory.
The recent shark attacks at Ballina are focused around the two lunar cycles after the first whales have made their migration. White sharks are not feeding constantly. Their liver is like a battery and allows them to go weeks and months without eating. White sharks are regarded as opportunistic on their feeding habits with whales, preying on sick and injured whales as well as calves.
This year we are in the midst of full blown El Nino and the humpback whales made their migration up the coast later than what could be considered usual. My belief is the whales being late and potentially more clustered together has resulted in less feeding opportunities for a portion of the white shark population at a key time. My thoughts are that a portion of the population hasn't fulfilled their need for calories and thus are heading close to shore to feed on schooling fish like the Australian salmon.
As to why the attacks on the full moon, I present two reasons. A long standing saying by fisherman and more recently adopted by divers is "No run - No fun".
During the full moon there are larger tides and ocean currents also increase in intensity. When the current increases, eddies and stands of water create feeding opportunities for marine wildlife. Wildlife activity increases and aggregates on the full moon and this results in an opportune time to hunt.
The other reason has to do with hunting strategy. On this, sharks have been documented leaving shallow water on the full moon and returning on the new moon. This is something which I myself have recorded with my team in an exercise book during 4.5 years working as a diver at the southern tip of the Great Barrier Reef.
The idea is that because sharks use a lot of different senses to hunt their food, low light (new moon - darkness after sunset) and poor visibility allows sharks a competitive advantage to catch their prey. It is also suggested that these sharks do this avoid predation (I believe the attack in January on the new moon not to be the work of a white, but a bull or tiger - the timing would agree too).
White sharks however have extremely good eye sight and use it to identify and hunt their prey. As the full moon approaches there is light after sunset and white sharks are perhaps approaching a time where they are peaked up to get their calories.
As to Ballina? Living, surfing and studying at Ballina, I can say this region from Evans Head to Byron Bay has always been a very sharky area. It is located at the extreme eastern point of Australia, literally a corner in the coastline meaning wildlife tends to bottleneck through there: this is the reason Byron Bay is such a great place to watch whales.
It is also the place where the vibrant - although periodically majorly disturbed - Richmond River breaks the coastline, which plays a role as a nursery for fish and sharks. There are also multiple coves perfect for schooling fish to stop in and reef systems for fish to aggregate just offshore. Right now it is also a place of convergence for a lot of marine wildlife.
In short my belief is that because the whales were late it created less feeding opportunities for the white shark at a key time for them, therefore a small amount of hungry sharks have been getting desperate and peaked up to feed on the full moon. This has resulted in more negative shark encounters in the Ballina region.
The good news is I don't believe this will last. Stay safe people. //NICK BRENNAN